---
At the time of its construction, the Eiffel Tower of Paris, was lauded for its innovative architectural design; one that imitates the stability of a femur bone. Naturally, our Eiffel Tower Vases are equally inspired. These tall glass vases similarly reflect a slender, bone-like structure. We offer four different sizes of Eiffel Tower Vases (16 inch tall vases, 20 inch tall vases, 24 inch tall vases, and 28 inch tall vases), and these glass vases come in three different colors (clear glass vases, white glass vases, and black glass vases).
Whether your style is modern, traditional, Victorian, or contemporary, Eiffel Tower Glass Vases are excellent as centerpiece vases for weddings, events, and home decor. 
---
Clear Eiffel Tower Vases: A Crystalline Fantasy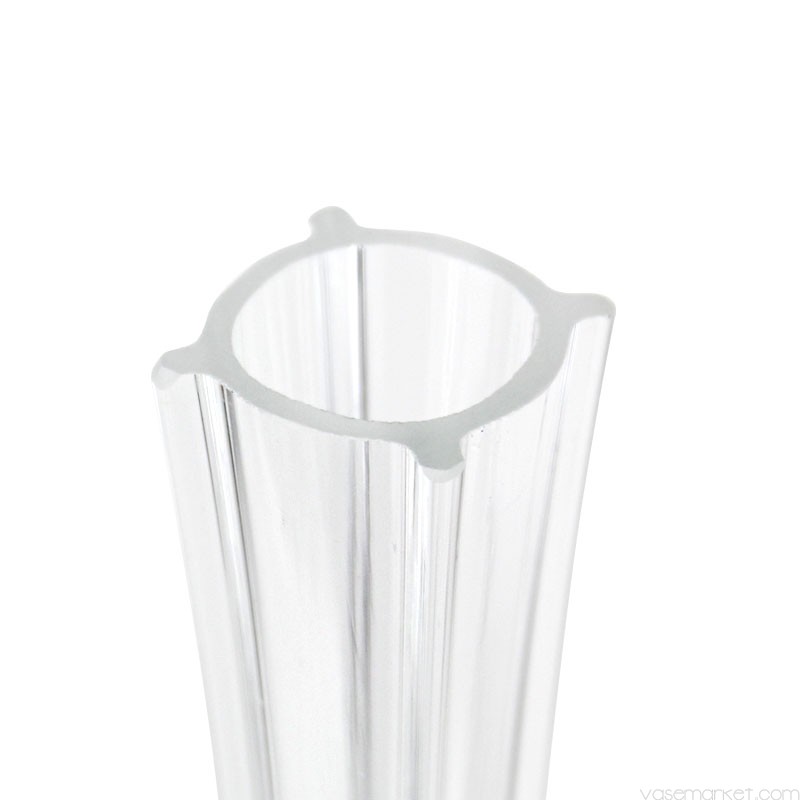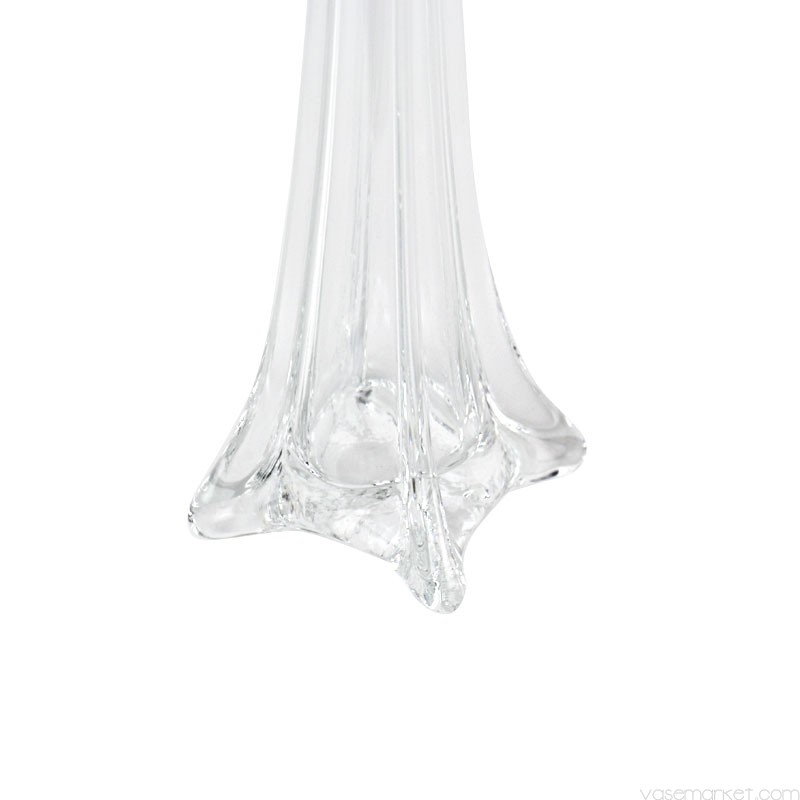 Vase Market's Clear Eiffel Tower Vases are one of the most popular tall vases for use as wedding vases or for creating centerpiece vases for other events. These tall vases are handcrafted by skilled handblowers overseas and there is a great attention to detail that gives these glass vases an almost crystalline rainbow shimmer. Because of their unique shape and tasteful elegant design, the clear Eiffel Tower vase is a great choice for high-class or red-carpet galas, weddings, events, and other ceremonies.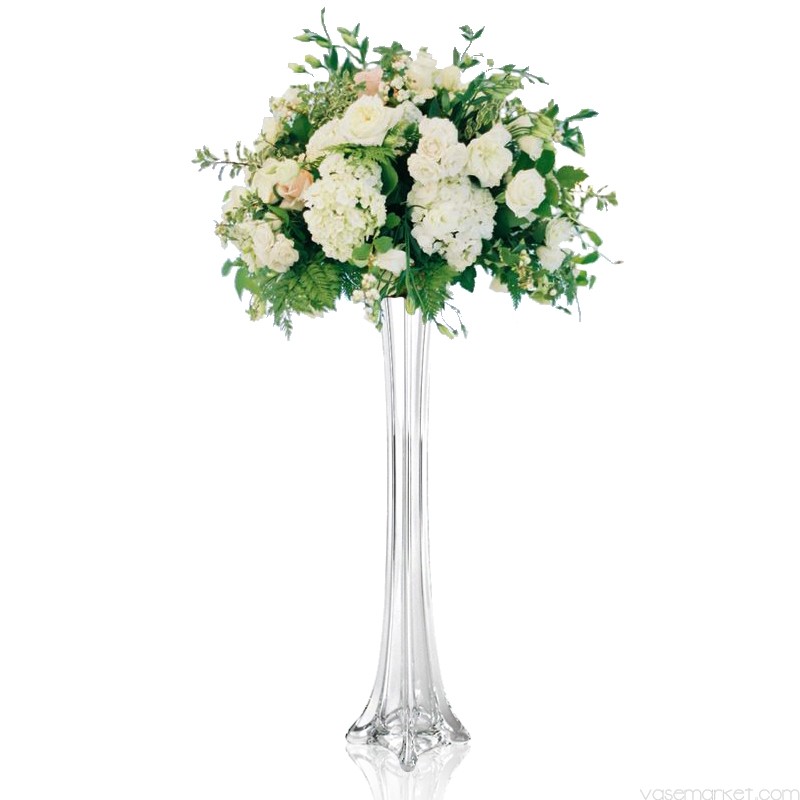 There is a kind of deceptive elegance to these slender tall glass vases that give your centerpiece creations a professional feel. Whether you place full and heavy flower arrangements, or simpler, lighter feather arrangements, we are certain that these tall vases will inspire a sense of wealth. It is a deceptive kind of elegance that only the Eiffel Tower vases can provide as centerpiece vases, especially when Vase Market offers these wedding vases at an incredible price of as low as $3.40 per vase. Where else can you find sigh high-quality wholesale vases that work with your grand ballroom events or medieval fantasy themed weddings?
Black and White Eiffel Tower Vases: A Different Kind of Party 
Our colored Eiffel Tower vases are great for creating contrast with vivid floral or feather arrangements. Our own experiments at the Vase Market showroom demonstrate how bright colors contrast well against the white Eiffel Tower vase.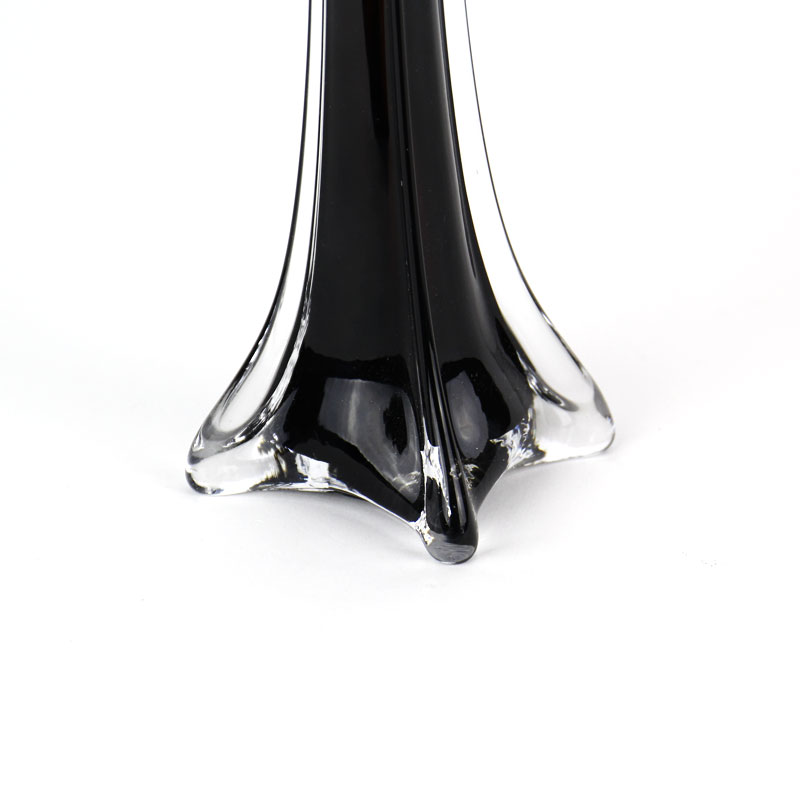 In the image above, you can see how the bold black color is infused within the glass, with the clear outline of the 4 "spines" on these tower vases. Our high quality tall glass vases are made with extreme care to ensure that this polished detail shows in every piece we sell. 
---
We hope you enjoyed our newest post!
If you like what you see, and you wanna see more, you can sign up for our Vase Market Newsletter. Also be sure to check us out on Yelp, Facebook, Wedding Wire, Gay Weddings, Pinterest, and Instagram for more info! You might even stumble upon special offers and coupon codes!