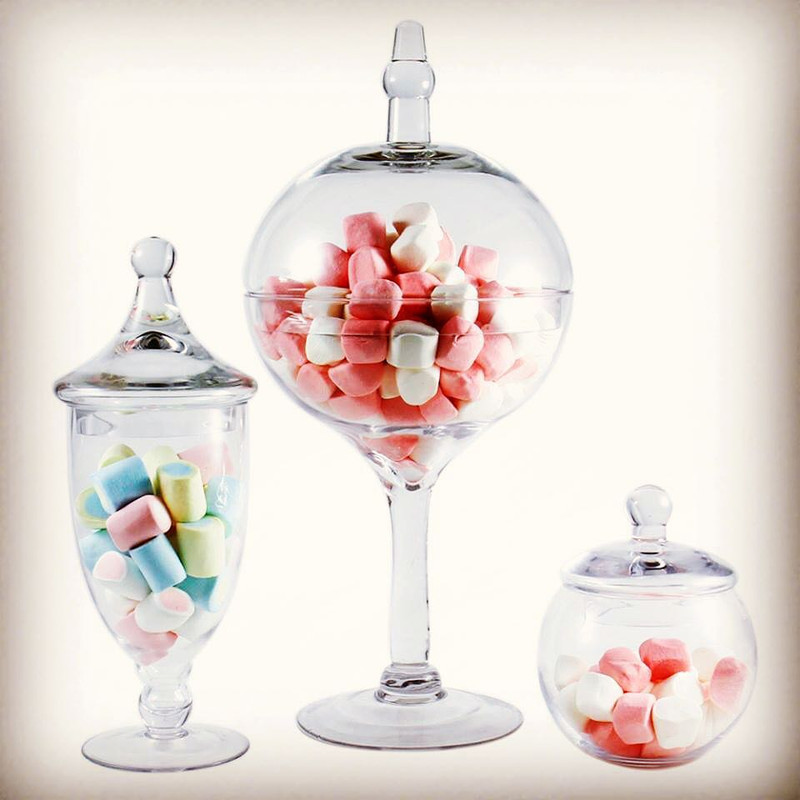 Check out our top ten picks from our glass candy buffet apohecary jar collection. Among a myriad of designs, we've selected a specially curated set that will allow for a candy table with the most aesthetic diversity. It is our adamant belief that styling your candy buffet table means presenting a collection of jars with varying heights, shapes, and sizes. 
To read up on other stories that feature or mention our candy buffet jars and apothecary jars, you can also check out the following:
"The Unity Sand Ceremony - A New Way to Tie the Knot"
"Spring Cleaning Tips - Get Organized with Apothecary Jars"
"4 Ways to Reinvent Your Wedding Candy Buffet"
"Summer Paradise Dessert Table: DIY Lemon Bundt Cake Centerpiece"
Subscribe to our newsletters and stay up to date on the latest info on apothecary jars!
---
---
→→→ See More: Follow us on Instagram for decorative inspiration! →→→
---
 We hope you enjoyed our newest post!
If you like what you see, and you wanna see more, you can sign up for our Vase Market Newsletter. Also be sure to check us out on Yelp, Facebook, Wedding Wire, Gay Weddings, Pinterest, and Instagram for more info! You might even stumble upon special offers and coupon codes!
---
Vase Market is the place for all your glass vases in bulk, wholesale glass candle holders, centerpieces, and party supplies! Vase Market is a direct importer of wholesale glassware and decorative pieces for weddings and events. We offer hand-crafted, high-end quality products for birthdays, bar-mitzvahs, weddings, and corporate parties throughout North America. Whether you're planning a splendid event, a close-knit gathering, or simply want to decorate your home, we are confident that our items will fit your individual style while helping you stay within your budget.