With Halloween just around the corner, it can be a challenge to find a balance between going ALL OUT on the decorations and doing it safely. As usual, don't just take our word for it. Even fire officials would recommend replacing your usual buring flame candles for flameless LED candles to prevent fire hazard. "The newer lights even flicker, to give a realistic effect without putting off any heat", New York officials advise. And that is exacty what our flameless LED tealights do. They give us the BRIGHT without the burn. And as you can see from our lastest Instagram photo, they still look captivating and realistic. With these flameless tealights, you can have an exceptional Halloween party that's LIT (but not literally). Host a fun Halloween party for your friends and family while keeping them safe. Win-win.


---
LED Party Lights for Halloween and More!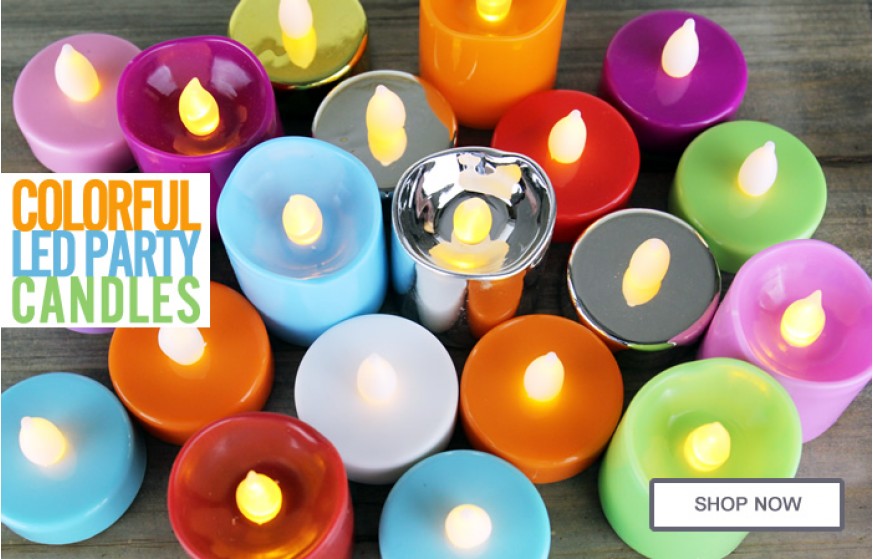 If you want to ensure a fun, easy, and safe parties for holiday events for kids, Vase Market's wholesale LED lights can definietly bring all of that and more! Our LED party lights are excellent complimentary accents to almost any of our glass vases, stem glass candle holders, hurricane candle holders, tealight candle holders, and glass terrariums. We have battery powered LED party lights that come in a variety of casing colors, shapes, and materials: plastic flameless tealight candles and flameless votive candles, flameless wax pillar candles, LED base plates (square and round) to be placed underneath vases or glass scultures, and submersible plastic LED lights for illuminating water-filled vases, decorative fountains, or fishbowls and aquariums.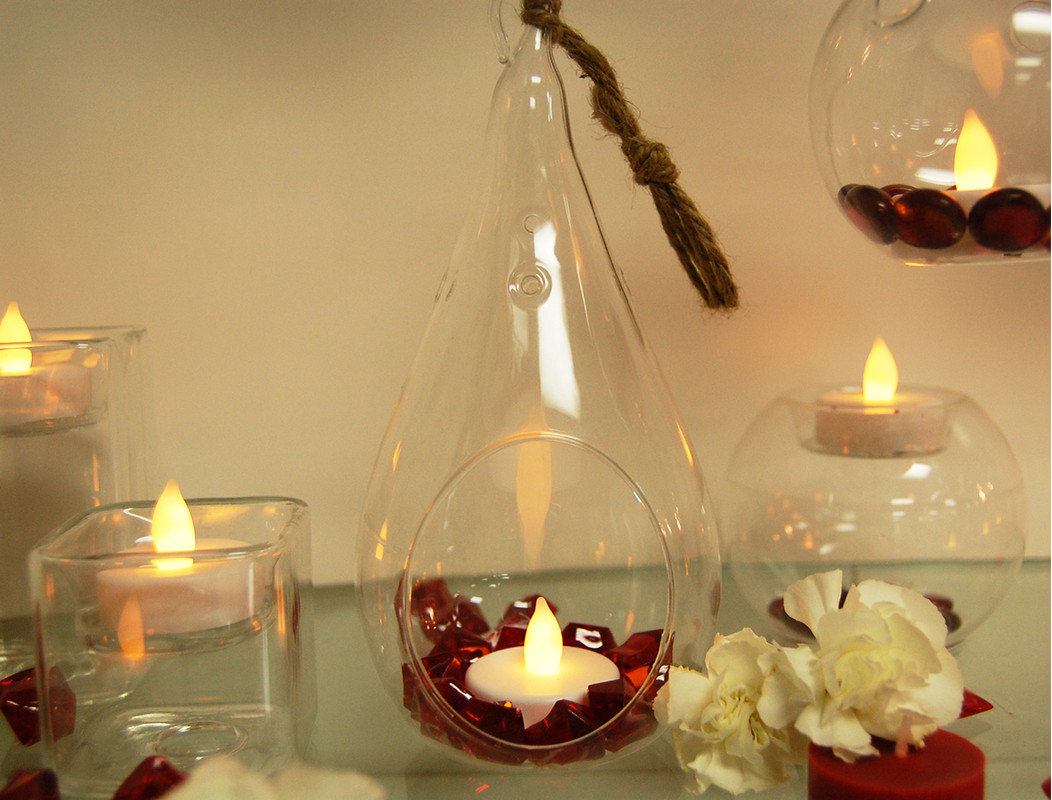 (Image: flameless tealight candles, teardrop terrarium, bubble bowl tealight candle holders, & square bud-vase tealight candle holders)
Vase Market has so many glass candle holders made for tealights. While many enjoy using our tealight holders for real candles, the flickering semi-realistic effects of our LED flameless tealights still look just as lovely.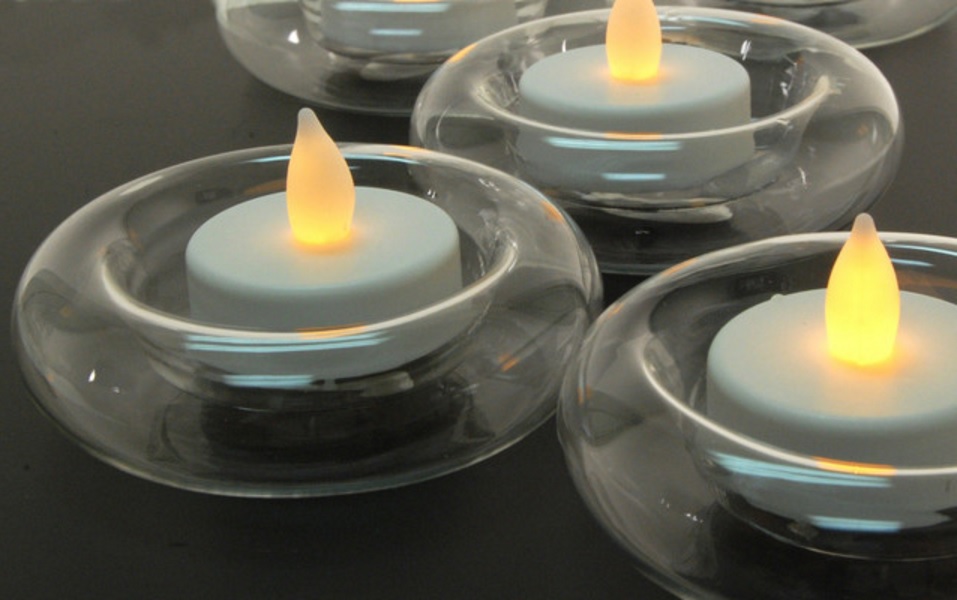 (Image: flameless tealight candles & floating glass tealight holders)
Floating tealights are enchantic additions to glass vase centerpieces, floating candle bowls, or indoor and outdoor fountains. If you think it's impossible to use our flameless LED candles the same way, think again! We have floating glass tealight candle holders that will transform your flameless tealight candles into floating candles while looking positively endearing!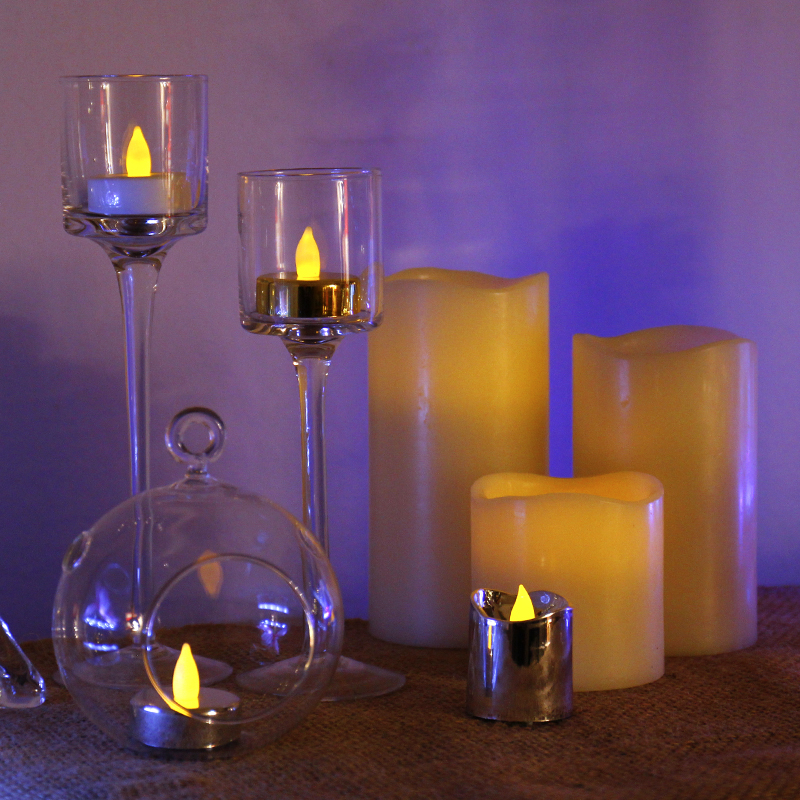 (Image: silver flameless tealight candles & votive candles, wax flameless pillar candles, hanging tealight holder orbs, & stem candle holders)
If you find that plastic casing is still a little off-putting, we understand. That's why we also offer flameless pillar candles made of real wax that can also flicker like real candles. They are, in effect, just as real as other large pillar candles, except these flameless wax pillar candles don't product real flames or heat, and the light will never melt out the candle as real flames would. You can even set a timer to automatically put these candles to sleep after a certain number of hours.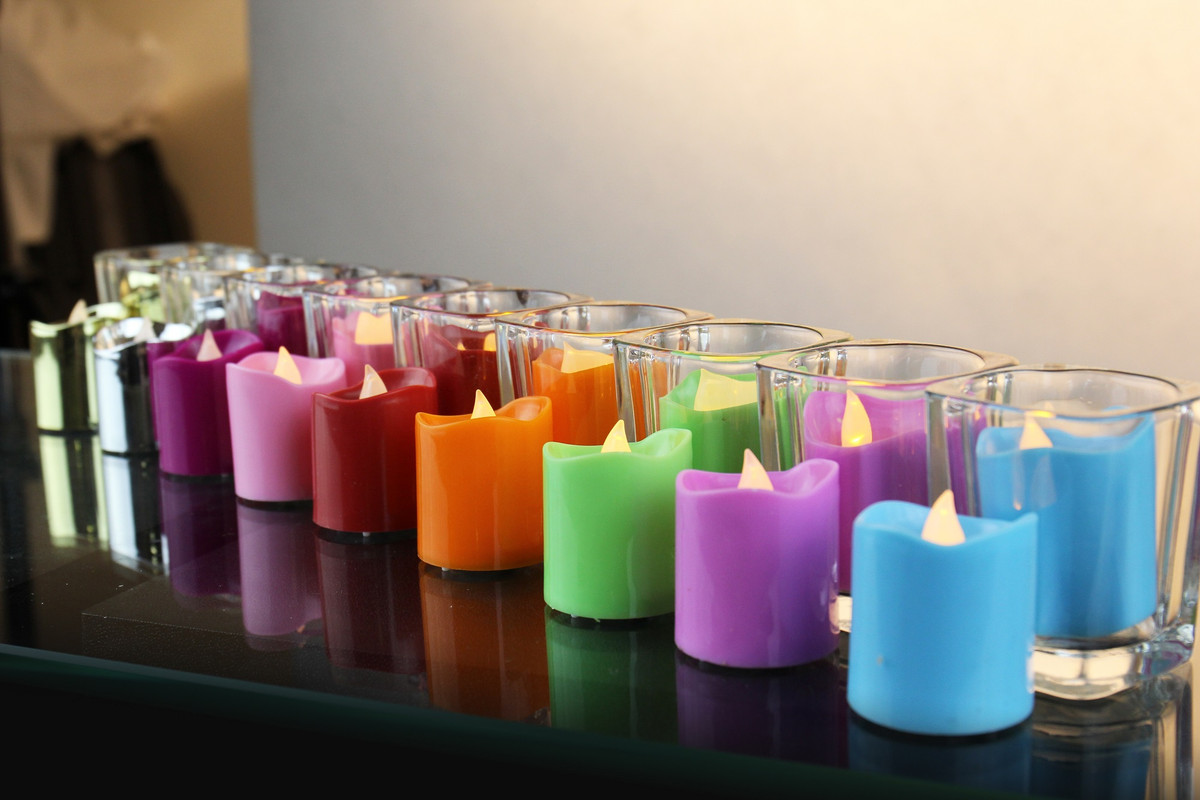 (Image: flameless votive candles and votive candle holder cups)
Our flameless votive candles also come in so many different bright colors fitting for every kind of holiday or special occasion! You can even customize each one by having your kids write on the casing of each candle with a sharpie or colored marker. It could be just their name, or a special wish, or fun little pictures that match the occassion! Each votive candle fits perfectly in our small votive candle holder cups.
(Images: White submersible LED lights)
Submersible LED lights are the best for that in-the-dark glowing ambience. Depending on the additional decor and the color of LED chosen, the moods you create can range from cold and wintery, to fun and psychedelic, to dark and creepy, to warm and romantic!
---
We hope you enjoyed out latest blog post!
If you were inspired by today's post, and you wanna see more, you can sign up for our Vase Market Newsletter. Also be sure to check us out on Yelp, Facebook, Wedding Wire, Gay Weddings, Pinterest, and Instagram for more info! You might even stumble upon special offers and coupon codes!