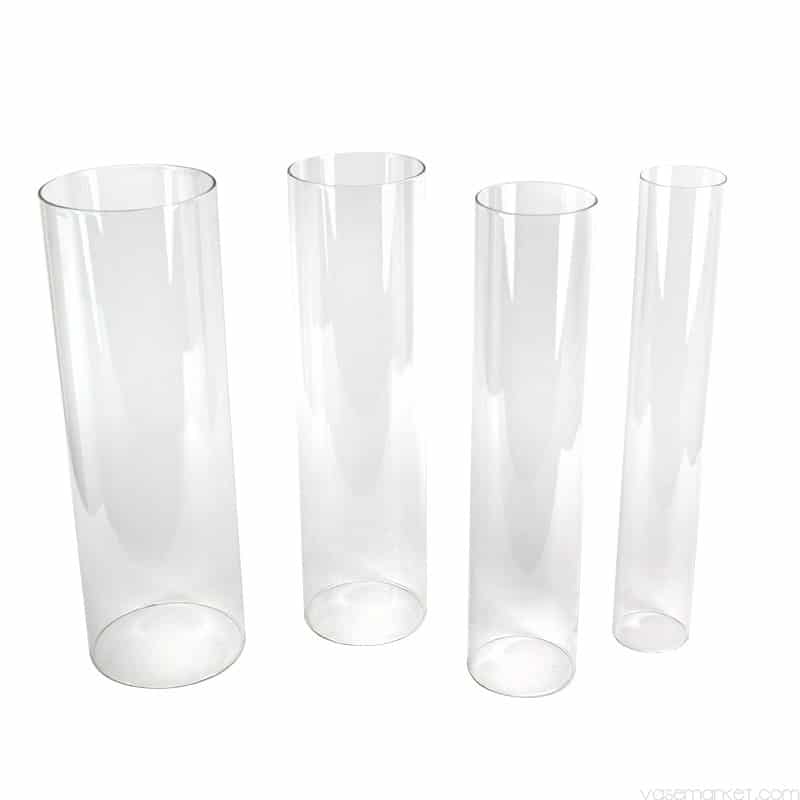 Sometimes we might call them chimney tubes or open ended hurricane globes, but generally they are referred to as glass cylinder candle shades or glass lamp shades. They look very similar to our cylinder vases, but upon closer inspection you'll find that these shades are not closed on either end. While our cylinder vases are often used as candle holders and are quite compatible with various types of candles, sometimes due to the depth and 90-degree enclosure created by having one end closed, many find that candles are hard to remove and the vases difficult to clean. Some prefer the convenience of the hurricane cylinder glass shade because it is easy to remove, but still provides much protection for open flames.
While they may be primitive in appearance, we also ought to think of these cylinder candle shades as supplemental pieces to the multitudinous selection of candles and candle holders that can be found from just shopping around in stores or online. The best examples would be stick and pillar candle holders. Often, these holders are designed as just that: holders. You can place candle sticks and pillars on lovely towering pieces or on Vase Market's specific sets (here's one, and another, and another) but an open flame is an open flame. And unless you want your table arrangements to go up in flames, you should consider the simple safety precaution you could take by shielding your candles with a few simple hurricane candle shades.
It's not that uncommon after all. Long before we had grand electric chandeliers, people hung candles (and later gas lamps) from their ceilings. And what did they use to protect their open flames? Glass cylinders and cylinder glass shades. There are still some people who are really into that vintage fashion lighting who buy hurricane glass lamp shades just for their old world wall sconces. 
We've seen that people can get incredibly inventive in how they decorate these glass cylinders, which is of course made easy because of their function as "candle shades" rather than "candle holders". For example, here we can see that some creatives used scrap lace to wrap around their hurricane candle cylinder glass shades: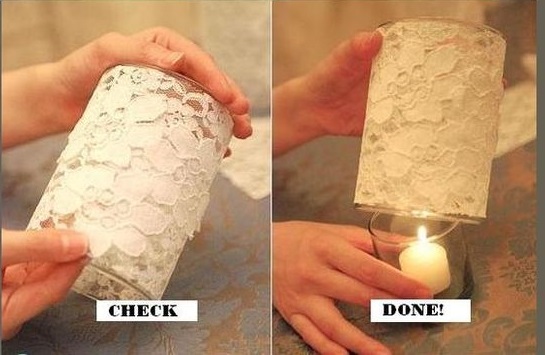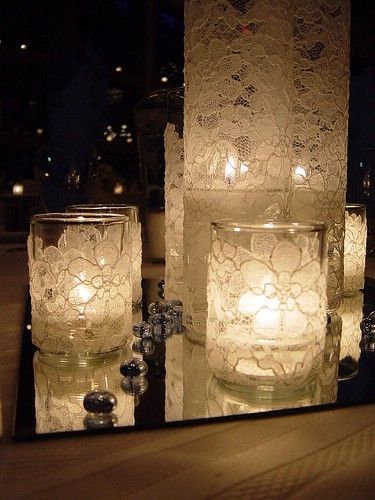 If you find that cylinders are a drab and over used shape, then take a look at our more uniquely shaped hurricane candle shades. Combined with a base plate, these milk jug-shaped glass candle shades also make interesting terrariums.
As you can see from some of the examples above, using a candle shade doesn't require that your candles stand alone. Dripping wax and burning wood tables is no fun, which is why we also happen to offer heat resistant candle plates and dishes, as well as mirror bases, long stemmed holders, tea light holders, and votive holders to further supplement and complete your safe, creative, and convenient candle shade arrangements!
---
We hope you enjoyed our newest post!
If you like what you see, and you wanna see more, you can sign up for our Vase Market Newsletter. Also be sure to check us out on Yelp, Facebook, Wedding Wire, Gay Weddings, Pinterest, and Instagram for more info! You might even stumble upon special offers and coupon codes!