A House For Your Garden: Wooden Box Vases and Wood Garden Planters
There are different types of gardening, and if you want something simple, easy, and great for amateurs, then container gardening and window boxes might be a great place to start. If you're a true beginner gardener, however, I highly recommend reading up on some basics before starting on something you're not ready to handle (like googling "what's a window box?" for starters).
At Vase Market, we offer a selection of wooden box vases that are popular among florists and professional gardeners. Most of our boxes are made of wood, and most of them have fitted zinc liners for easy access. Safe and fun window box and container gardening starts with choosing the right types of garden planters, and there are more benefits to our zinc lined wooden box vases than you might realize.
The Function of Zinc Liners In Wooden Box Vases
The main function of our pot and planter liners is for something known as "double potting". Wood is susceptible to mold, mildew, and rot. The liners are designed to protect the outer wooden box vases cachepots for this reason. While many gardeners might be more inclined to use ceramic pots, they tend to be heavy and have a fragility that might not be suitable for people who want a little more weather resistance. Zinc, on the other hand, is light-weight and corrosion resistant, which is also used in prolonging the life of various materials including steel. This means you don't have to worry about rust or water damage. Zinc can also kill harmful microbes in the soil. Our zinc liners are also free of lead and asbestos, so you can certainly use these wooden box vases to grow small vegetable gardens, if that's what you're into. You can learn more about the benefits of zinc for gardens here.
The only understandable downside is that our wooden box vases are not equipped with drainage holes, which many gardeners consider essential to the health of a container garden. It is not uncommon for many gardeners to manually drill their own drain holes in newly bought garden planters, but another way to improve water drainage is by lining the bottom of the boxes with stones or ceramic shards and topping that with good quality loose soil. You would have to regularly remove the plants and drain the water out yourself. 
If  you're looking for a garden planter that's more affordable and easier to handle, then our plastic lined wooden box vases are probably the best fit for you. The plastic is flexible and creating drain holes is a lot easier.
Home and Garden Decor
Our wooden box vases can come in natural unfinished wood or polished dark wood, but the best thing about the wood garden planters we offer is that they come in various sizes. They're perfect for all kinds of decorative uses indoors and out.
For example, among our smaller wooden box vases, we have cube boxes that come in four inches, five inches, and six inches. You can create small, cute, and easy centerpieces with these boxes. The rustic or desert feel of the natural wood and zinc metal is further enhanced when you fill them with water efficient and desert plants like cacti and succulents. For weddings or other special events that might take place outdoors or in dry conditions, these types of arrangements are long-lasting and have low maintenance. Because of their portable size, they'll also make excellent party favors and gifts. For larger boxes in the same style, we also offer wooden box vases as cubes in sizes of eight inches, twelve inches, and sixteen inches.
Our more rectangular wooden box vases fit the traditional image of the "window box" garden planter. If you've got the skills for it, you can learn how to install our wooden box vases into actual window boxes. Otherwise these can be great partition-like centerpieces for long tables. In the right season, they can act as simple containers for various seasonal items (pine cones, holly berries, candles, etc.). Filled with flowers, or with wheatgrass, it also makes a unique decorative piece for the home over fireplace mantles or long side tables lining the walls. 
If your interested in what other wooden box vases and garden planters we offer, you can also check out our other iron grey and patina colored zinc pots and wood planters. Our birch-wrapped vases are also extremely popular for outdoor gardening and rustic centerpiece arrangements!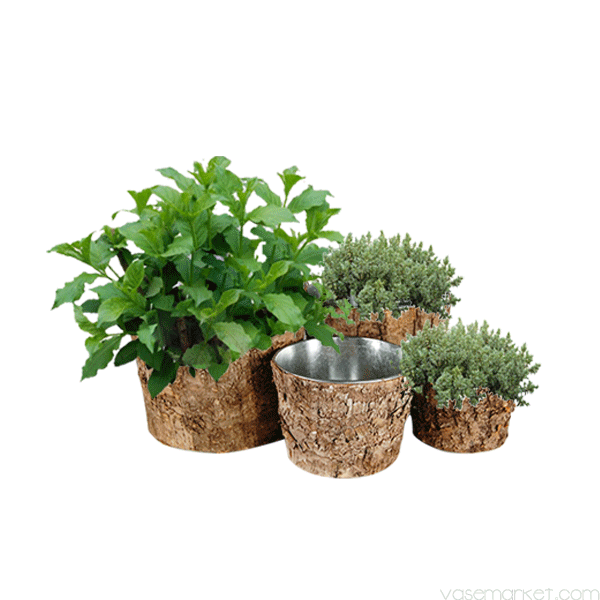 ---
If you like what you see, and you wanna see more, you can sign up for our Vase Market Newsletter. Also be sure to check us out on Yelp, Facebook, Wedding Wire, Gay Weddings, Pinterest, and Instagram for more info! You might even stumble upon special offers and coupon codes!