When it comes to great modern decorating, glass bubble bowl vases are wonderful if not obvious choices. As the name suggests, the glass curves into a bubble-like sphere with an opening at the top. Whether you're going for playful or dramatic, creating centerpieces with these bowls is easy when paired with your favorite items. You can brighten up a room by filling the bowl with colorful stones, vase fillers, seashells or fresh flowers. The encompassing glass makes it great for floating candles or pillar candles. You could also gather a collection of bowls to set up a candy buffet or to display novelty items. They also make great terrariums for all kinds of plants: drought-tolerant plants like succulents and cacti, or submersible freshwater plants like marimo moss balls and java ferns. Best of all, bubble bowls are a classic choice for keeping live fish!
A Bubble Bowl is the Perfect Glass Terrarium
These bowl vases are natural choices for terrarium growing and planting because the glass creates the perfect encompassing environment for preserving humidity. Unlike other types of vases, bubble bowls are more protective of it's contents. They are easier to handle and less likely to tip over and spill. This also makes bubble bowls great for long-term indoor gardening and indoor plant decor.
The example above shows a collection of air plants and succulents arranged in an artistic fashion for display. You can definitely create your own with perfect ease if you purchase your own starter set of seasonal terrarium plants and pair them with our excellent selection of bubble bowl sizes.
Click on the images below to explore these sizes and find the one that right for you!
Bubble Bowls as Floral Centerpieces
It's incredibly easy to create simple, but classy looking centerpieces with glass bubble bowls. They make natural floating candle holders, and they're great for low budget events! Just gather a few flowers, floating candles, and just add water! You can even add some vase fillers at the bottom for a dash of color or extra radiance.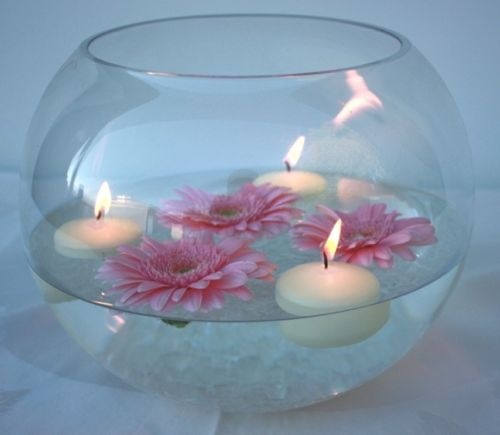 Of course, we do what we can to reduce the amount of stress and thinking that might go into creating the perfect table centerpiece by designing special vases with obvious functions. Our reversible tealight candle holder bubble bowls are fantastic choices because they have a clearly marked cavity for tealights, while also providing a space for interesting floral designs!
The very shape of our glass bowl vases inspires aquatic and oceanic centerpiece designs. In the example below, we can see that filling the bowls with sand, seashells, and starfish, makes a creative, nautical aesthetic that is perfect for that outdoor beach or ocean resort wedding you've been thinking about. Adding just a single, small votive candle in the center really completes and picture, and is sure to sustain your creative design all through the night.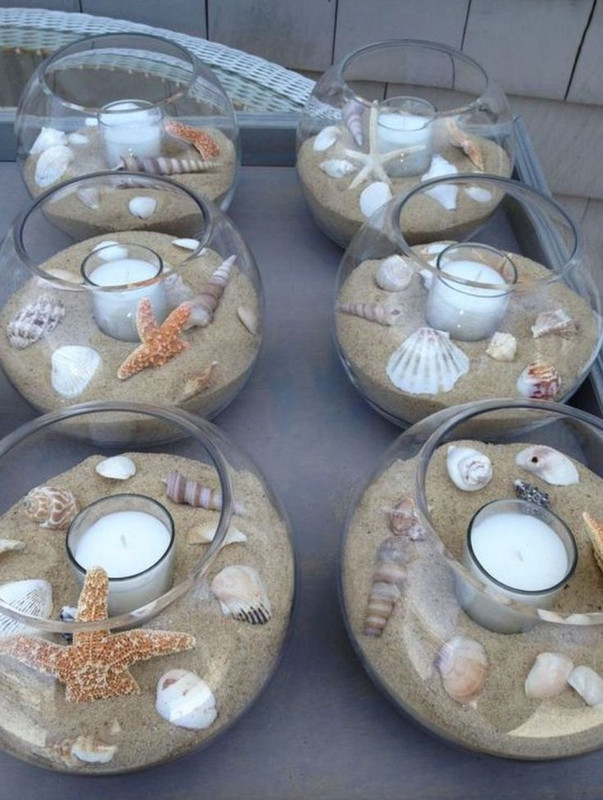 In our previous bubble bowls blog post, we talked about utilizing slant cut asymmetrical bubble bowls as terrariums. Well it turns out they are also fantastic centerpiece vases as well! Just curling in a few long stemmed flowers can transform a simple bowl into a centerpiece that looks like it was designed by floral professionals! Give it a try!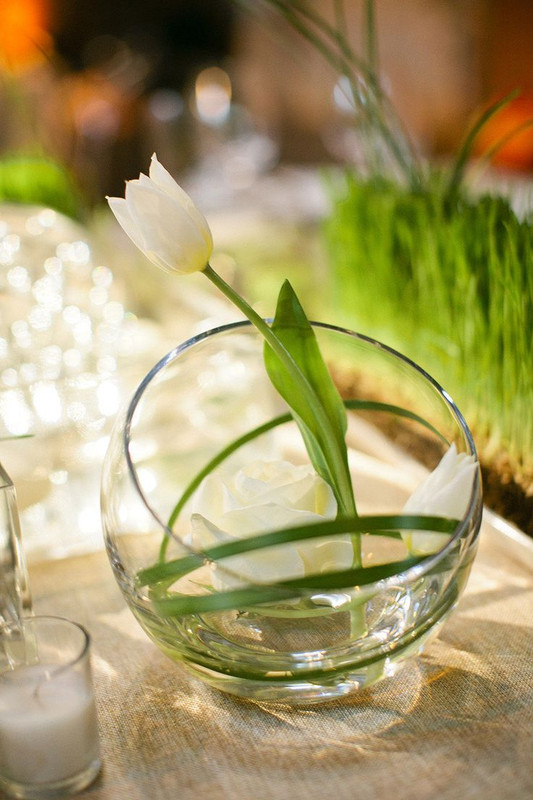 Check out this site for more inspiring images and ideas!
Bubble Bowls as Fish Bowl Aquariums
Of course, who can ignore the most obvious use for these big, round, glass bowls?
The best environment would provide a space that can hold at least 1 gallon of water. To provide the most comfort for your aquatic pets, we highly recommed using bowls with a minimum diameter of 8". So if you're looking for the perfect fish bowl aquarium, our GBB003, GBB004, GBB105, GBB107, and GBB108 are sure to be just what you're looking for!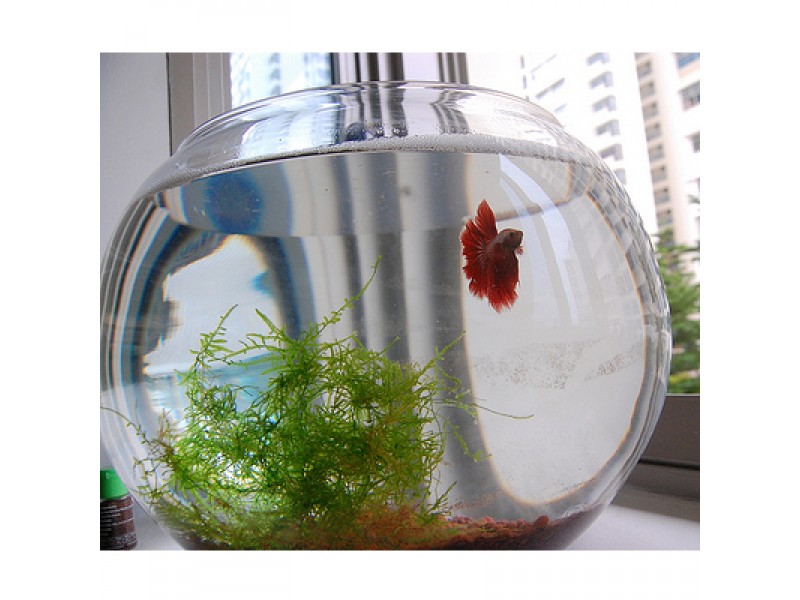 ---
We hope you enjoyed our newest post!
If you like what you see, and you wanna see more, you can sign up for our Vase Market Newsletter. Also be sure to check us out on Yelp, Facebook, Wedding Wire, Gay Weddings, Pinterest, and Instagram for more info! You might even stumble upon special offers and coupon codes!