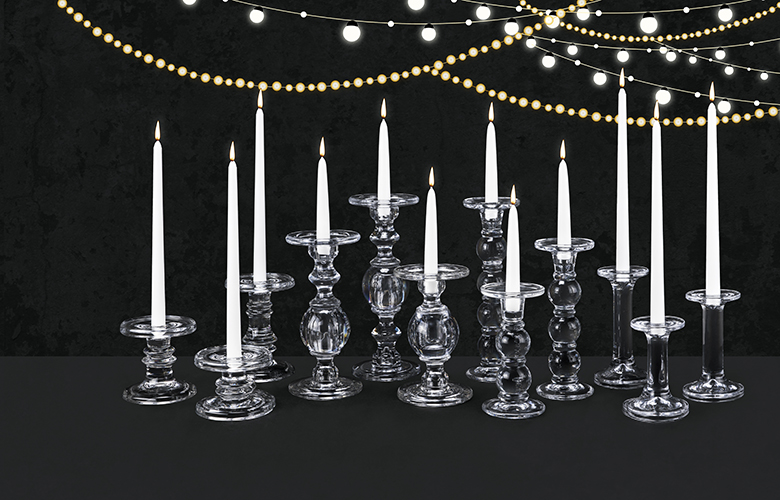 You might recall a few knobby baluster candlestick designs we added to our pillar candle holder collection last year.
Well now, Vase Market's got a brand new collection of glass pillar and taper candle holders in FOUR new classical baluster and modern/contemporary designs! These incredibly beautiful handcrafted clear glass candlesticks present a thousand new possibilities when it comes to decorating your tables and venues for weddings, birthdays, sweet 16 parties, quinceanera, debutante balls, luncheons and dinner parties, and other formal events. Paired with our sweet open-ended hurricane candle shades, and you've got a candleight match made in heaven. 
Read on to learn more about our design inspirations and the practical uses of each glass candle holder. Feel free to click on each candle holder image to read additional details such as dimensions and wholesale pricing.
The Baluster Pillar Candlestick Sets

We have two new designs of baluster stem glass candlesticks that can be used as either taper or pillar candle holders. Every piece in the set is hand crafted by professional glassblowers overseas.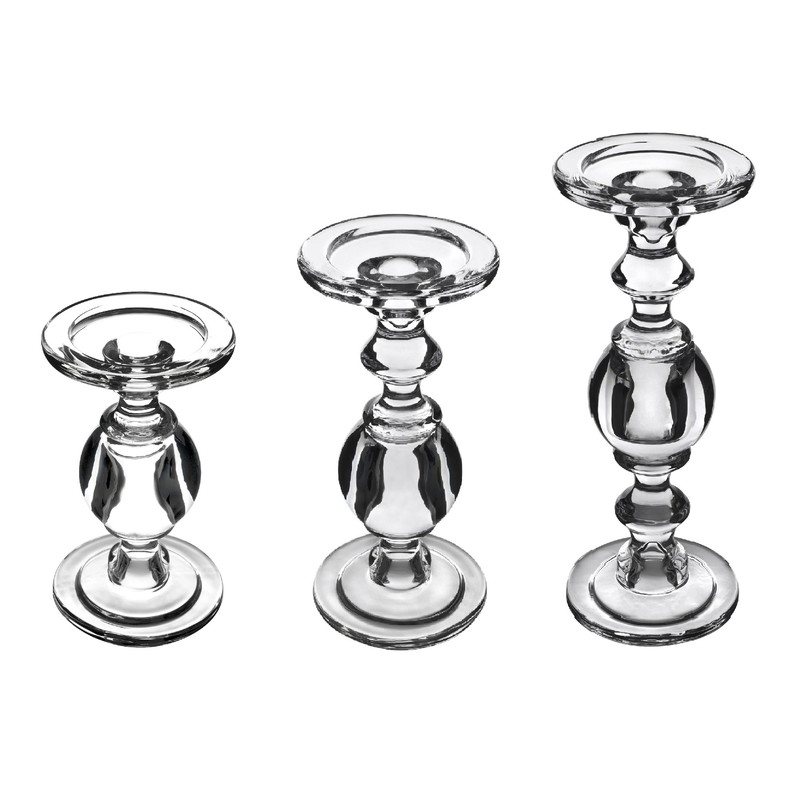 This first set of balustrade pillar candle holders features a globular spindle design inspired by classic wood baluster railings. The architectural balustrade was an innovation of decorative linings on balcony, stairway, and window railings from 15th and 16th century Italian style designs. These spindle shaped architectural elements transposed to designs of furniture and decorative home accents such as vases, chair and table legs, lamp stands, and of course, candlesticks.
Normally these designs are carved from stone or marble or they are shaped from wood by craftsmen using traditional woodturning methods. Bringing these spindle baluster shapes to glass is a relatively new idea, and bringing this traditional design to glass seems to fuse the classical with the modern. It's a hybrid of interior design fashions that signals traits of flexibility and adaptability in these glass candle holders.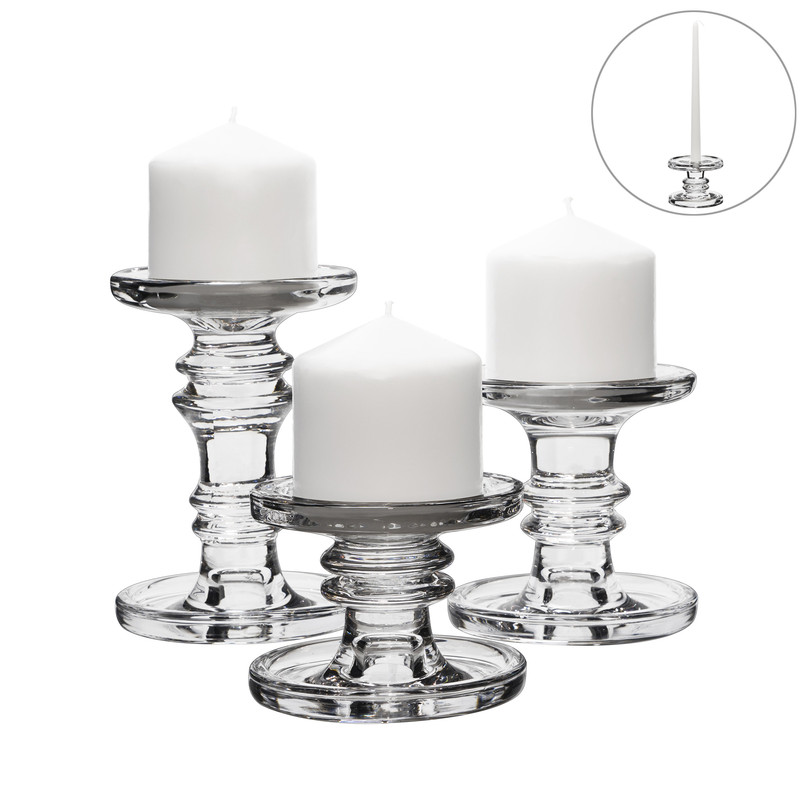 This second set of baluster pillar candlesticks is similarly inspired, with a less bulbous spindle design that shimmers and refracts light like crystal. This set is especially unique for its interior width within the rim. These glass candle holders have a wide interior diameter, capable of holding pillar candles up to 3.5 inches wide. They are also relatively short compared to most of our other pillar and taper glass candlesticks, which makes this set easier to work with and less likely to topple or shatter, as other kinds of taller glass candle holders might. The candle holders in this set are also made of thick and heavy weighted glass, unlike our more slender stemmed candle holders, giving them an air of greater stability and strength while still imposing a sense of regal dignity.
Modern Glass Taper Candlestick Sets

Among our new modern designs, we have a straight vertical baluster candlestick set in three different heights, and another set of 3 glass candlesticks with a bubble chain baluster design.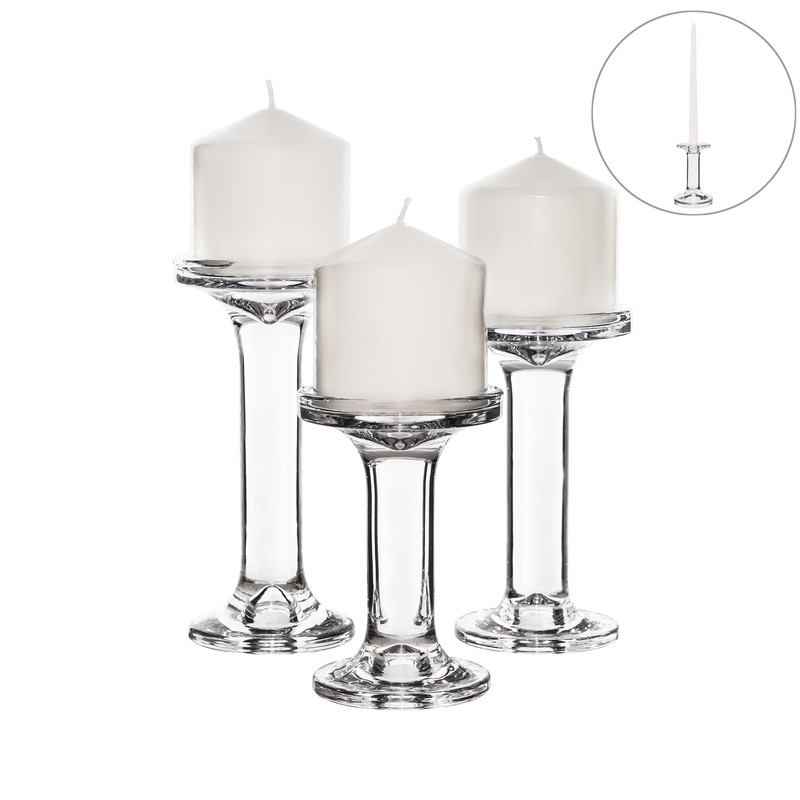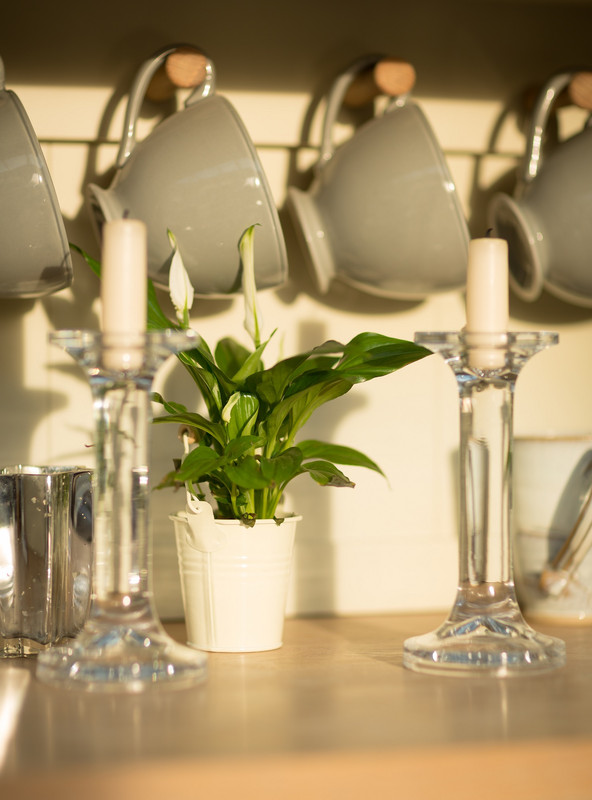 Our straight-sided stately stemmed taper/pillar candle holder blends in beautifully with transitional or mid-century modern homes.  It has just enough geometric simplicity to find a place in a singular design of pared-down shapes and light-fingered quirk, while also happily leaning into a refined and familiar traditional elegance without feeling outdated.  
As you can see from the images above, this set of glass candlesticks is also unique for it's reversibility as a candle holder. On one end of the candlestick, we have a rimmed glass plate with an interior diameter of 3 inches (which can hold pillar candles around 2.5 to 2.75 inches wide). On the other end of the glass candle stick is a 3 inch wide foot with a noticeable divot for holding slender candles. If you find some difficulty in making the candles fit into the divot, try shaving off just a little of the wax the bottom of the candle. Just like all of our other baluster pillar candle holders, these candlesticks are designed to hold standard taper candles. These modern style glass candlestick will not disappoint.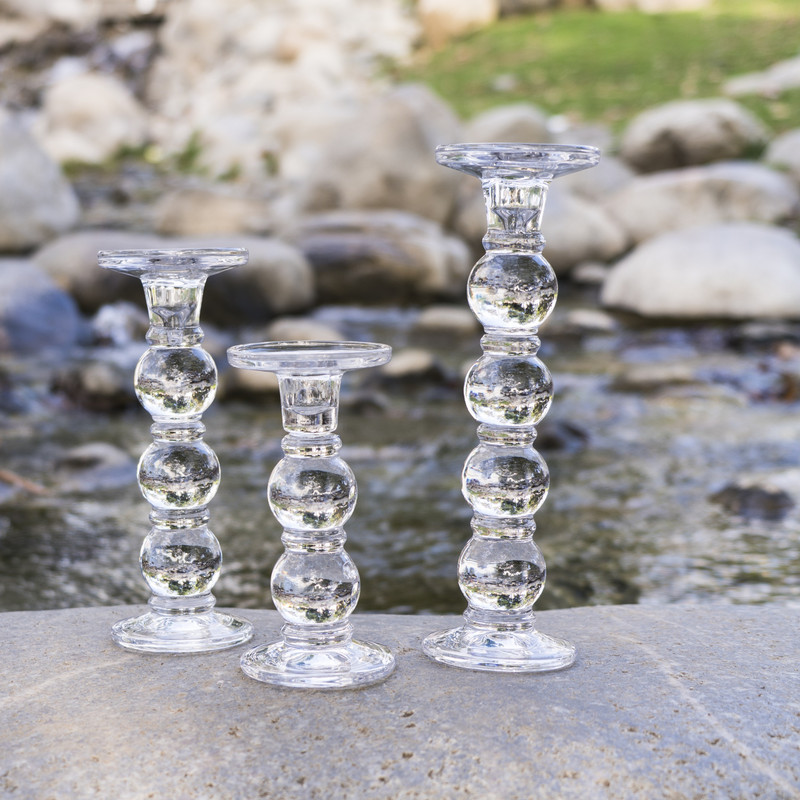 The candlesticks in this delightfully designed playful set, shown above, features baluster stems in the shape of knotted smooth glass bubble chains. Like the rest of our taper candle holder sets, this trio comes in 3 varying staggered heights. Again, these glass candle holders can easily holds pillar candles as wide as 2.5 inches, but a center hollow allows for the usual taper candles as well.



Baluster Pillar Candle Holders & Hurricane Candle Shades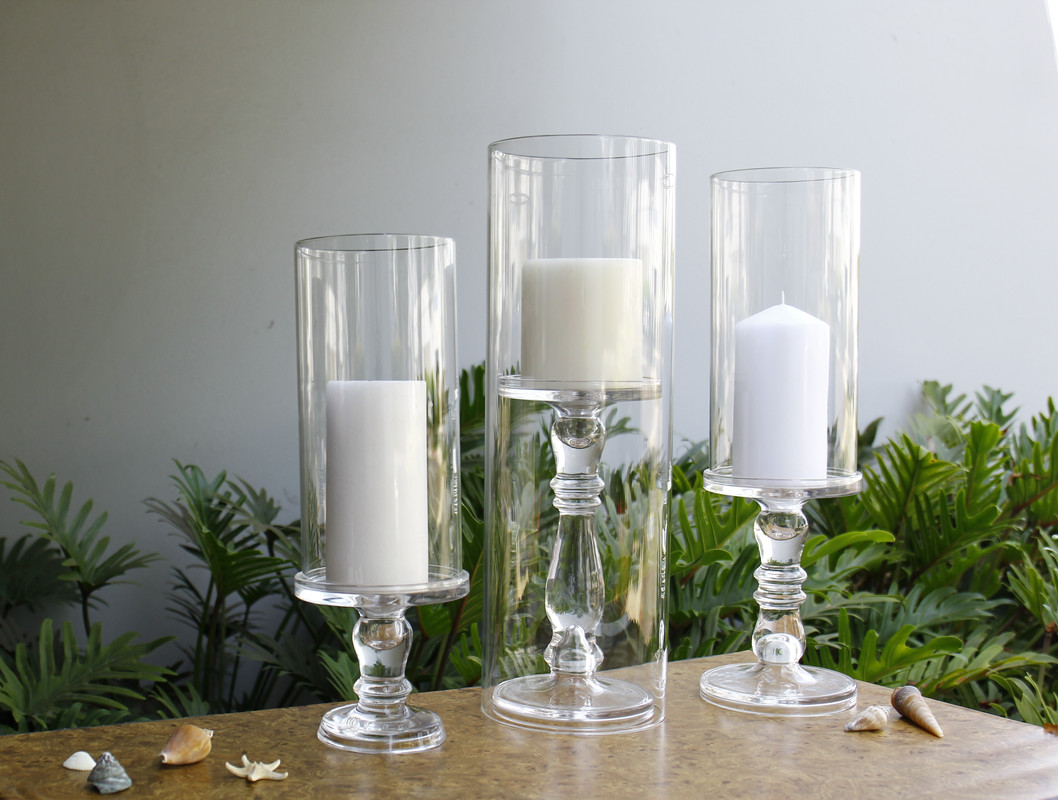 If you're looking to pair these lovely glass pillar and taper candlesticks with hurricane candle shades, we have a huge selection of different sizes that can fit within the rim or completely over the entire candlestick. For most of these glass candle holders, we would recommend glass hurricane shades with a 2.5 inch diameter. You'll have to check the stated diameter of each glass candlestick to determine exactly which hurricane candle shades will fit and what size pillar candle can be accommodated along with the hurricane candle shade.
If you're feeling uncertain, and you want to be sure before ordering, just give us a call (888-980-9698) and we'll measure them for you!
Happy shopping!
---
We hope you enjoyed out latest blog post!
If you are inspired by today's post, and you wanna see more, you can sign up for our Vase Market Newsletter. Also be sure to check us out on Yelp, Facebook, tumblr, Wedding Wire, Gay Weddings, Pinterest, and Instagram for more info! You might even stumble upon special offers and coupon codes!