Introducing our newest additions to Vase Market's glass candle holder collection. These beautiful and unique designs are gorgeous, practical, adaptable, strong and mysterious. Such qualities can only come about through skilled glass hand-blowing craftsmanship. Our newest set of glass pillar candle sticks and pillar candle holders have a unique pseudo woodturned design imitating traditional woodturned candlesticks in the shape of baluster columns while emanating a modern crystal sparkle! It's a fantastic hybrid of designs, bringing about a modern classic shape with layers of personality in every curve. 
 (Items Featured: GCH202/08, GCH202/05, GCH201/04, GCH201/05, GCH201/06)
Inspiration: The Woodturning Tradition
As far back as possibly 500 A.D., archeologists have found evidence of different cultures using a traditional method of woodturning to create wooden vessels such as bowls, tool handles, vases, knobs, lamps, rolling pins, cups, furniture, chess pieces, decorative wood accents and trims, and candlesticks. Using a wheel, a wooden pole or log is spun on a wood lathe. Then a professional turner uses several metal tools to cut and shave down the wood in a perfectly symmetrical shape. Modern turners use their skills to repair and restore antique furniture, sustain folk-art traditions, create customized architectural designs, or create woodcrafted art, baluster pillars and furniture limbs, and sculptures for display. To see these skills in action, just watch this video or this video (they're very statisfying to watch).
You can clearly see how the knobby curvature of our glass candle holder stems have a very similar shape to turned wood baluster stem candlesticks. These particular shapes are carefully crafted, achieved through skillful glass hand blowing techniques by professionals overseas.
An Adaptable Design of Glass Candle Holders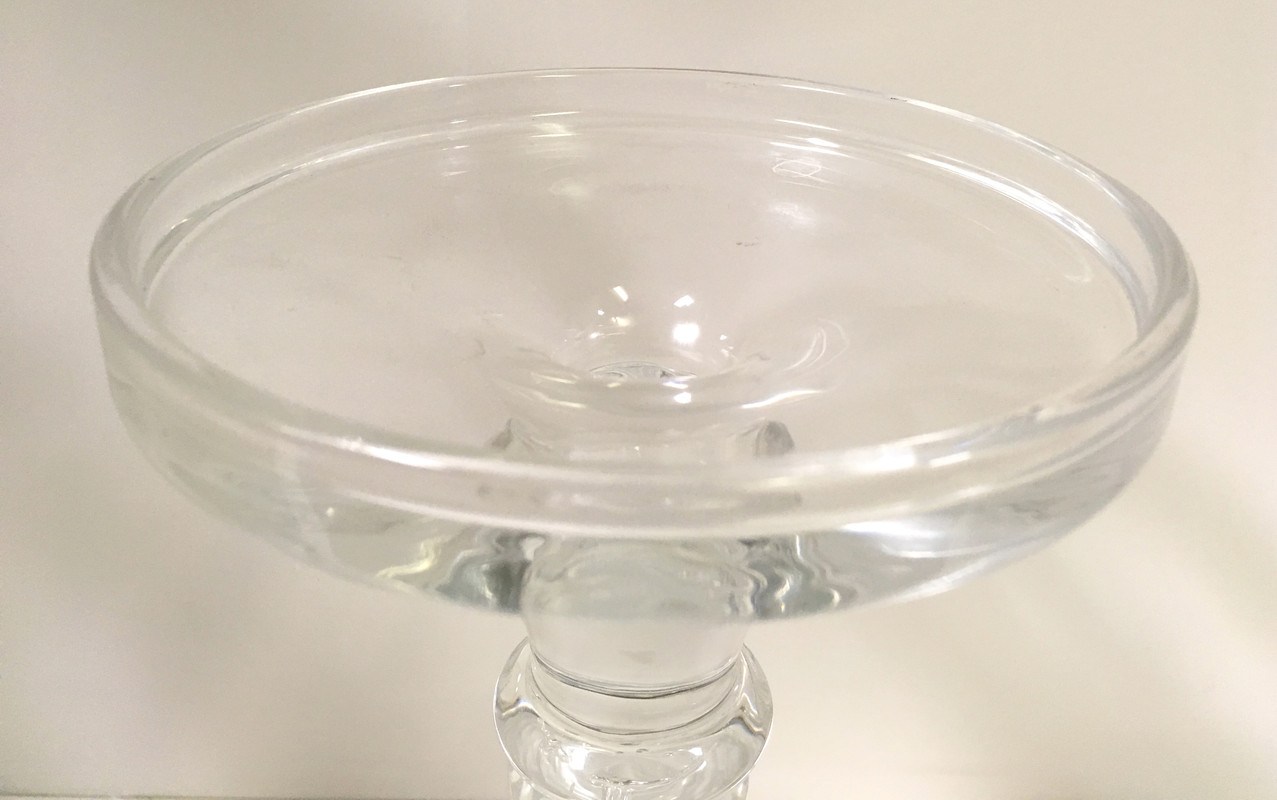 A closer look at these candle holders reflects a rim design much like our thin stem glass candle holders, with a lifted lip for keeping the candle in place. The main difference, however, is that the glass plate that is supported by the glass candle holder stem is slightly sloped and turns into a funnel, with a hollow that dips about an inch into the thick stem. While these glass candle holders are perfectly suitable for typical pillar candles, the hollow in the center is perfectly sized to also fit tall dinner candles and taper candles.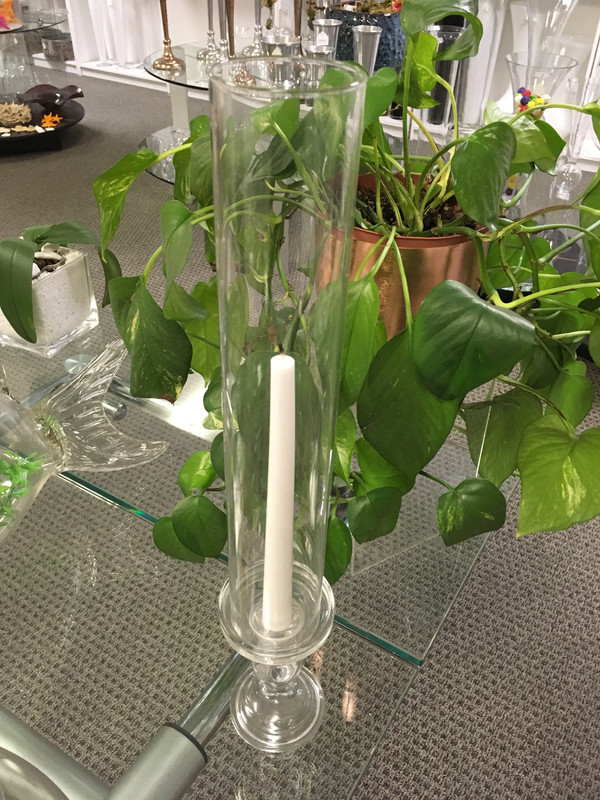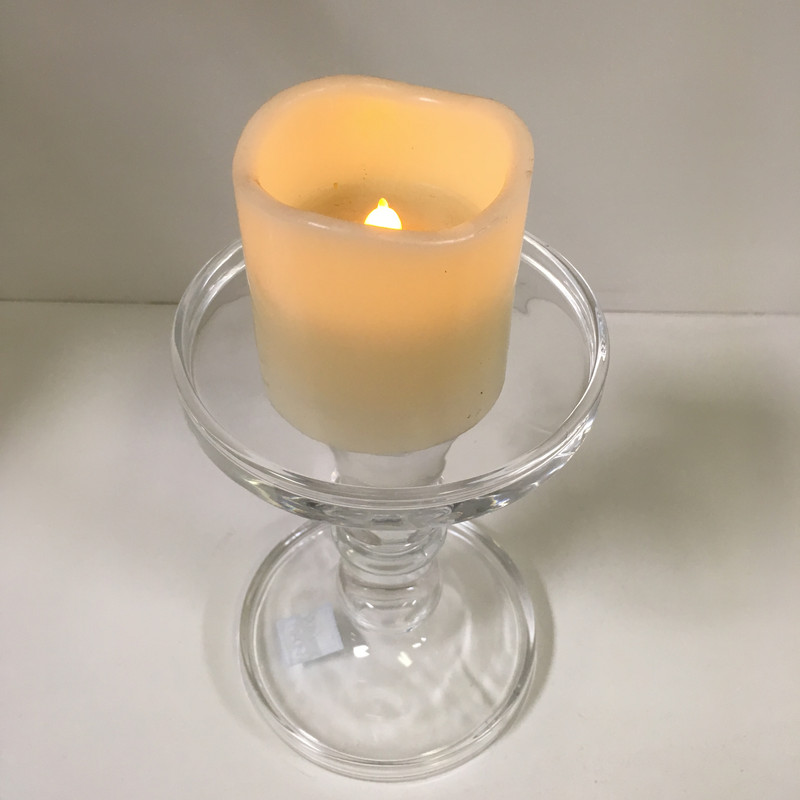 The lifted rim also allows for a perfect fitting of glass hurricane open end candle shades, which give added protection to the flame when placed over the candle. While we have a huge selection of different sizes of hurricane candle shades, we have some recommendations for sizes that are most compatible with these two different stem candle holder designs.
For a candle shade that fits within the rim of the plates of our bubble glass pillar candle holder design (which have a plate diameter of 3.25"), we recommend glass hurricane shades with a 2.5" diameter opening. For a glass hurricane shade that goes over the bubble glass candle holder completely, we recommend a 4" diameter hurricane or larger.
For a candle shade that fits within the rim of our larger 5" diameter plate stemmed pillar candle holders, a 4" diameter hurricane is also suitable. For an open end glass hurricane that goes completely over these 5 inch pillar candle holders, you should use a 6" diameter hurricane.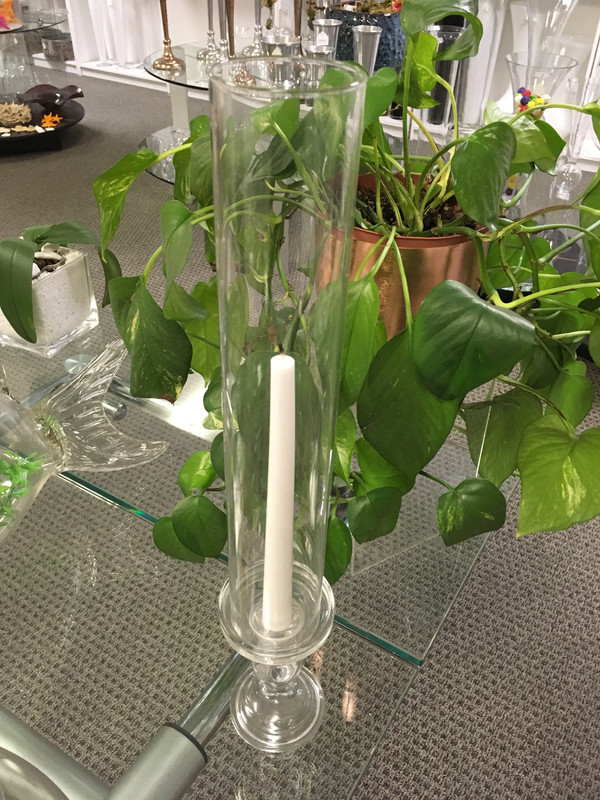 Modernism, Dynamism, and Vintage Aesthetic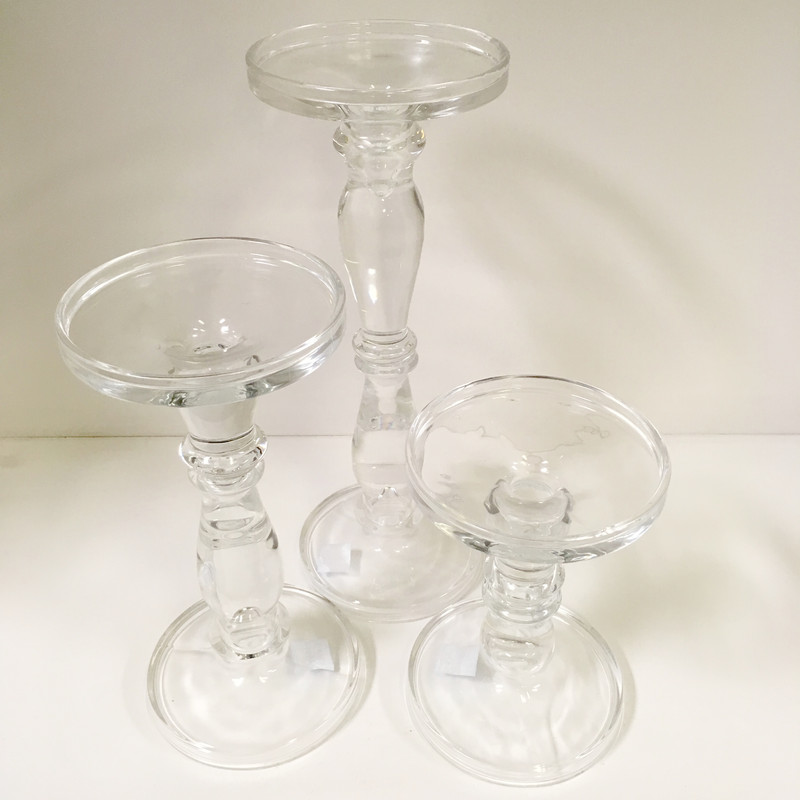 There's nothing quite as dynamic to creating a table top decorative display of candles as using staggered candle arrangements. Mix up different designs and allow the ambient glow of the candles to reflect and shimmer through these burnished glass baluster pillar candle holders.
---
FINAL NOTE: Care and Maintenance
Safety. There are few materials that can withstand the heat of a direct flame, no matter how small the flame may be. While these glass candle holders are not made of wood, and are relatively heat-resistant, you should NEVER allow the candle to burn completely until the flame reaches the glass. NEVER leave your candle burning without any attendance. 
Cleaning. You can hand wash these glass pillar candles or dust it off with a soft and dry cloth to prevent scratches.
---
 We hope you enjoyed our newest post!
If you like what you see, and you wanna see more, be sure to check us out on Yelp, Facebook, Wedding Wire, Gay Weddings, Pinterest, and Instagram for more info! You might even stumble upon special offers and coupon codes!
---
If your interested in learning more about our candle holder collection, see the articles below:
"Cylinder Glass Tealight Candle Holders for Wedding Centerpieces"
"The Glass Cube Votive and Tea Light Candle Holder"
"Glass Castles - The Geometric Terrarium"
"An Open-Ended Question: What Good Are Open-End Candle Shades?"
"Delicate Stems: Vase Market's Beautiful Long Stem Glass Candle Holders"
"Geometric Vases: Faceted Glass Gems"
Subscribe to our newsletters and stay up to date on the latest info on Candle Holders and Glass Vases!
---
Vase Market is a wedding vase and home decor wholesaler from City of Industry, California servicing weddings and events throughout the local area, including Los Angeles, Orange County, and San Diego, as well as throughout the United States. Vase Market is a professional direct importer that has been part of the Southern California glassware industry since 1998 specializing in high-end glassware, glass vases, and glass terrarium.