Geo Glass Gems
If you've ever been to a mineral shop or an earth science museum, you might have noticed that the beautiful collections of rough or cut gemstones have an uncanny resemblance to our newest collection of vases. 
The five eclectic containers you see in the images above are part of our special collection of table-top geometric glass vases, fundamentally inspired by the gorgeous precious minerals of the earth, in both their cut and uncut forms. These sophisticated multi-faceted pieces have a dignified and tasteful, art-deco, 1920s-vintage aesthetic. They're perfect for unique floral, candle, or succulent terrarium displays and they work well with minimalist décor and modern homes. 
This newest collection contains a nice variety in terms of size as well as symmetry. Each jewel-like vase embodies an inspired concept that makes them as much a sculpture as a functional piece. Let's explore each one to learn about their inspirations and uses.
The Argyle Tower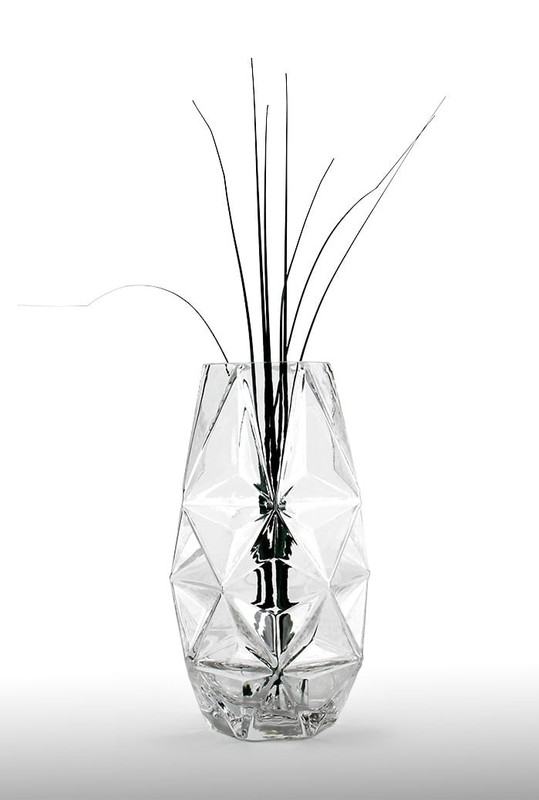 Of the five vases in our new collection, the 10" tall geometric "argyle" vase could be considered the most "ornate", with the greatest resemblance to a brilliantly cut diamond. It has the greatest number of facets and an uneven surface with an alternating indented argyle pattern around the crystal glass. Each facet adds to the balances the light and dark, creating an almost sparkling effect. This design demostrates an impressive extravagance that would find itself completely at home within the granduer described of the Gatsby mansion from F. Scott Fitzgerald's most famous novel, The Great Gatsby. 
The Honeycomb Vases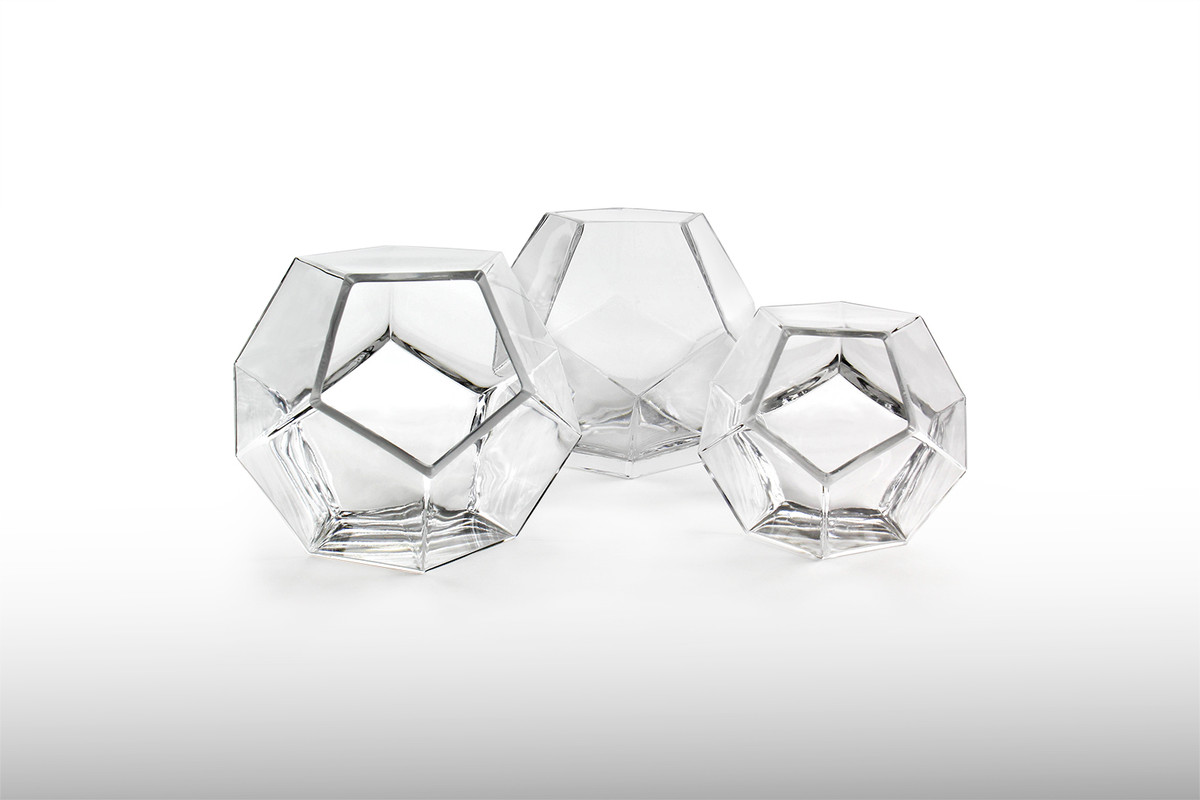 This honeycomb inspired design has a total of 12 pentagon-shaped "sides" or facets. This type of prism is also known as a dodecahedron. If you've been following Vase Market's previous newsletters, you'll know that we also have modern dodecahedon terrarium vases, with steel wire frames and long chains for hanging. While they share the same shape, unlike the framed terrariums, these new geometric glass vases have a thinkened base that provides protective heat resistance for candle holding, as well as a pentagonal opening directly at the top for easy access. The black metal frame of our hanging terrariums gives a kind of old-world-feel that is more fitting for industrial decorative designs, whereas these new glass dodecahedrons are more adaptable to multiple settings, making it a more eclectic piece. 
(And I for one, cannot help in associating the shape of vases with the colorful dice from Dungeons and Dragons.)
The Uncut Crystals
If you've ever strolled along commercial avenues filled with street merchants, chances are that you've probably seen at least one or two stalls selling rough cut crystal quartz points like the ones shown below. The final two models of our geometric gem glass collection are inspired by these beautiful raw, uncut quartz gemstones. Imitating the smooth, long facets of these crystals, the vases give off an aura of magic and mystery. 
Unlike the other vases we've mentioned so far, these two have longer, more angular facets that give a sense of elevation similar to gothic spires. On the 6" tall geometric crystal gem vase, there are a total of 14 "sides" or facets on this prism. The opening and base are shaped like hexagons, while the 12 facets along the sides are pentagon shaped. Meanwhile, the tall and majestic 12" crystal gem vase has pentagonal facets deliberately uneven in shape, which further enhances the dynamic, rough uncut gemstone appearance.
If you feel inspired by these beautiful crystal gem vases, you'll probably love checking out all of our different geometric vases. Just click on the link and start exploring!
---
We hope you enjoyed our newest post!
If you like what you see, and you wanna see more, you can sign up for our Vase Market Newsletter. Also be sure to check us out on Yelp, Facebook, Wedding Wire, Gay Weddings, Pinterest, and Instagram for more info! You might even stumble upon special offers and coupon codes!
---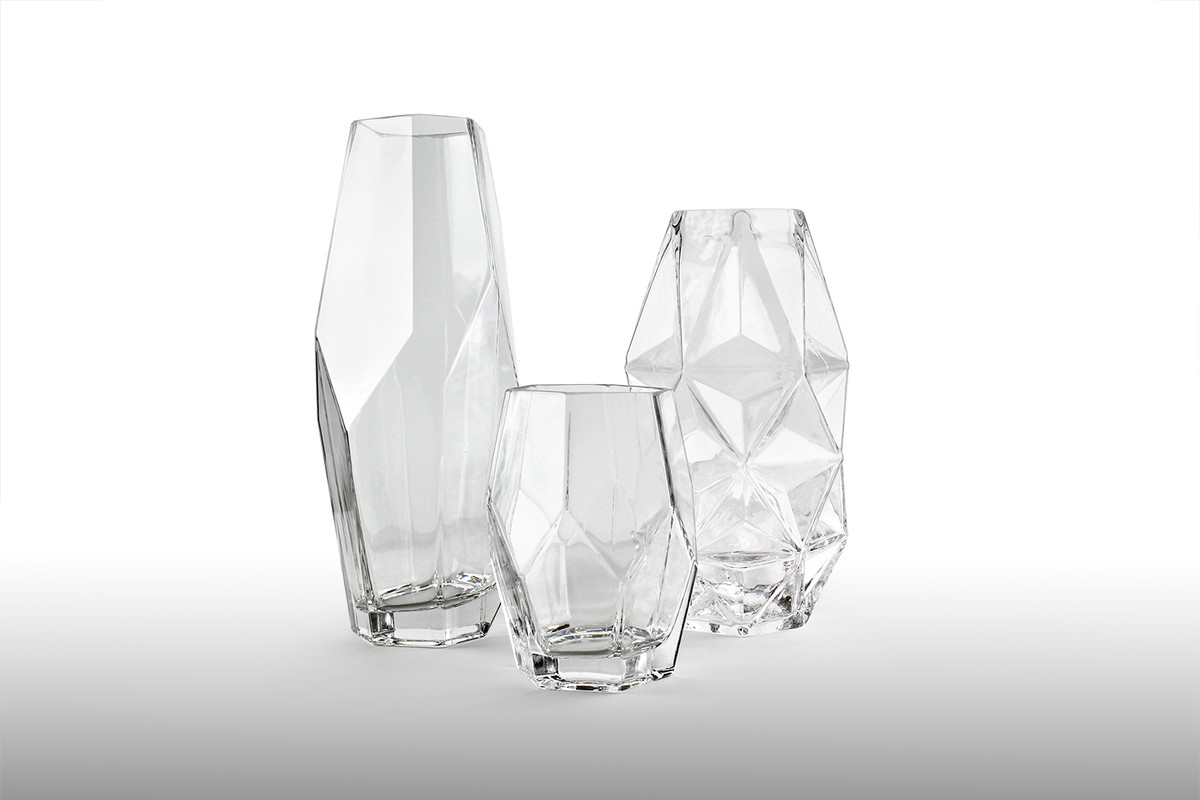 ---
Vase Market is a wedding vase and home decor wholesaler from City of Industry, California servicing weddings and events throughout the local area, including Los Angeles, Orange County, and San Diego, as well as throughout the United States. Vase Market is a professional direct importer that has been part of the Southern California glassware industry since 1998 specializing in high-end glassware.