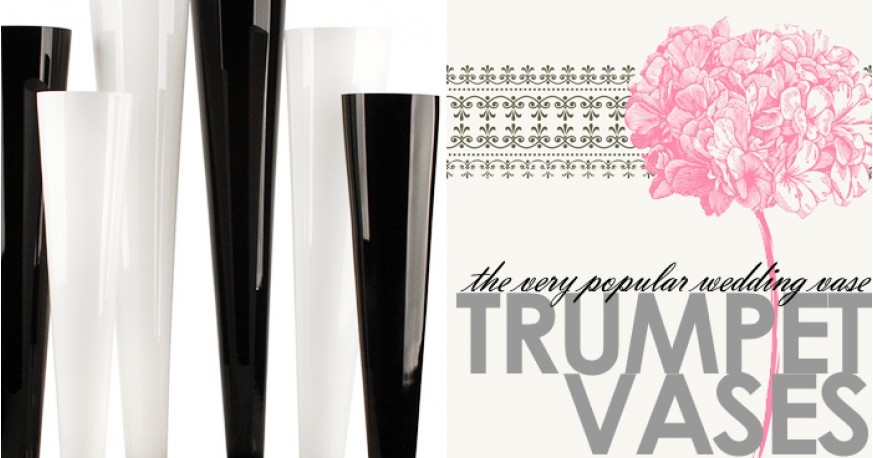 It's been a while since we last talked about two of our favorite vases: the Clarinet and Trumpet Vases.  As previously discussed, glass clarinet and trumpet vases are extremely popular choices for wedding centerpieces. Their length and their bold and stable shape are the perfect match for large and grand events. 
---
See the flash animation above to see additional details and variations in design.
---
Reversible Clarinet Trumpet Vases
In some places, these hourglass shaped vases are also called mirror vases or garnier vases. One of the fun advantages of the clarinet trumpet vases is their ability to display different sized arrangements. Because they have two bell-shaped ends, flower arrangements can be nestled into either opening, thus making these vases "mirrored" or "reversible". If you fill the smaller bell with an arrangement that drapes over the length of the vase, its silhouette is like that of a slender figure in a long dress and wearing a veil. Fitting for matrimonial celebrations, don't you think?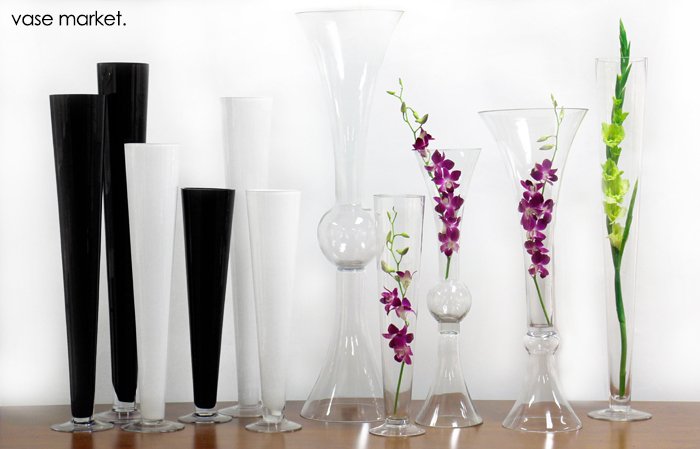 Artistic Details
Every nob, every accentuated lift or impression in the glass is an ergonomic detail made to fit comfortably to a person's hand. These details were made with the user in mind. Going beyond aesthetics, these vases are smooth to the touch and carry a satisfying weight, further indicating their crafted quality.
Creating Great Bouquet Arrangements for Clarinet and Trumpet Vases
While we usually recommend that you hire a professional to help in centerpieces for your weddings and events, there are places online that can give good, basic tips and tutorials on how to arrange your own, if you are so inclined.
One of the great things about our trumpet vases is the base is sufficiently heavy, as a counter weight to the overall taper down shape. They also run deep, allowing users to put in additional counter weights, including water, vase fillers, or seashells to maintain balance against extremely large arrangements. Our reversible clarinet vases have large flared rims on both ends. These details serve to increase the stability of these vases for top-heavy floral arrangements. Just remember to consider the rules of proportion and balance in the relationship between the flowers and the container.
You can learn more about arranging fantastic bouquets here.
---
We hope you enjoyed our newest post!
If you like what you see, and you wanna see more, you can sign up for our Vase Market Newsletter. Also be sure to check us out on Yelp, Facebook, Wedding Wire, Gay Weddings, Pinterest, and Instagram for more info! You might even stumble upon special offers and coupon codes!
---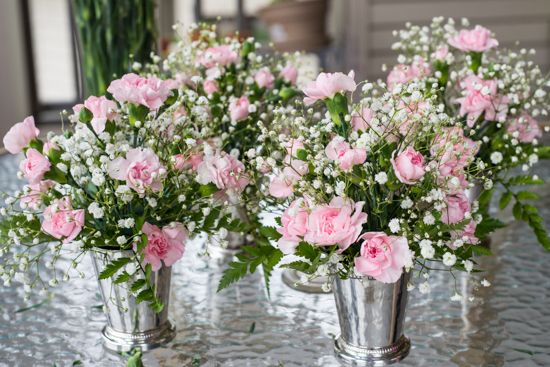 Be sure to check out some of our most popular vases! This week's highlight: MINT JULEP CUPS.
---
Vase Market is a wedding vase and home decor wholesaler from City of Industry, California servicing weddings and events throughout the local area, including Los Angeles, Orange County, and San Diego, as well as throughout the United States. Vase Market is a professional direct importer that has been part of the Southern California glassware industry since 1998 specializing in high-end glassware.