"I may be rushing things, but deck the halls again now." - Shane Harper, We Need A Little Christmas
It may be 2 days after Halloween, but it's never too early to start thinking about holiday preparations! And it's definitely not going to stop us from decking our showroom and hallways with red, green, and gold. If you're looking for tips on how to create stunning holiday decorations worthy of Instagram, there are simple ways to be found, right here on Vase Market.
Read on to see what we prepared for our own office holiday bash, staring with our deceptively elaborate centerpieces. Using the newest addition to our wholesale glass candle holder collection, we made classy yet budget-able table-top accents. You may recall that we've featured these gorgeous glass candlesticks in a previous newsletter.



The Holly Sprig Centerpieces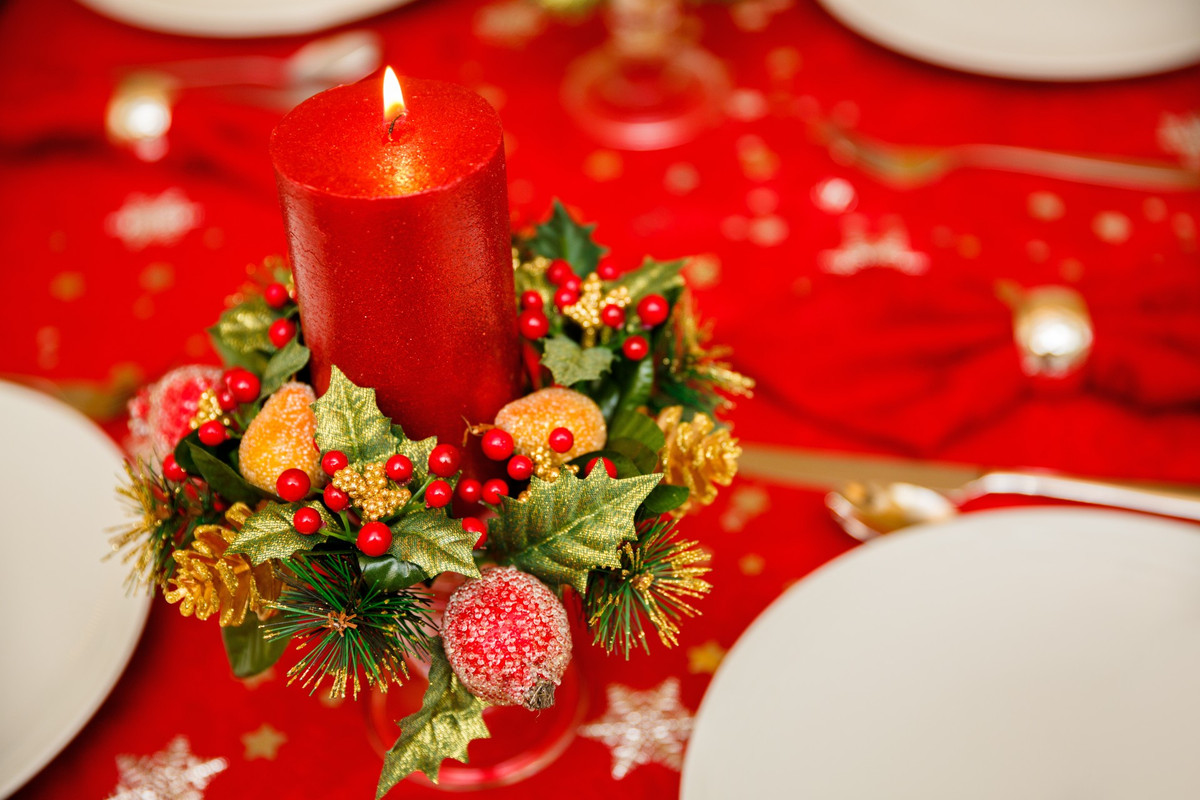 (Image: Centered on our long red table cloth are our new Bubble Glass Pillar Candle Holders with red candles and a holly ring)


This centerpiece is, as mentioned before, deceptively elaborate, epitomizing the concept of "enchanting". There are 3 simple components to these lovely accents: a pillar candle, a holiday candle ring, and a glass candle holder at the base. We used two 4.5-inch tall bubble glass pillar candlesticks on each long table, placed right in between each guest place setting. The combined height of the candle and candlestick is still relatively low enough for guests to have conversation over the candlelight.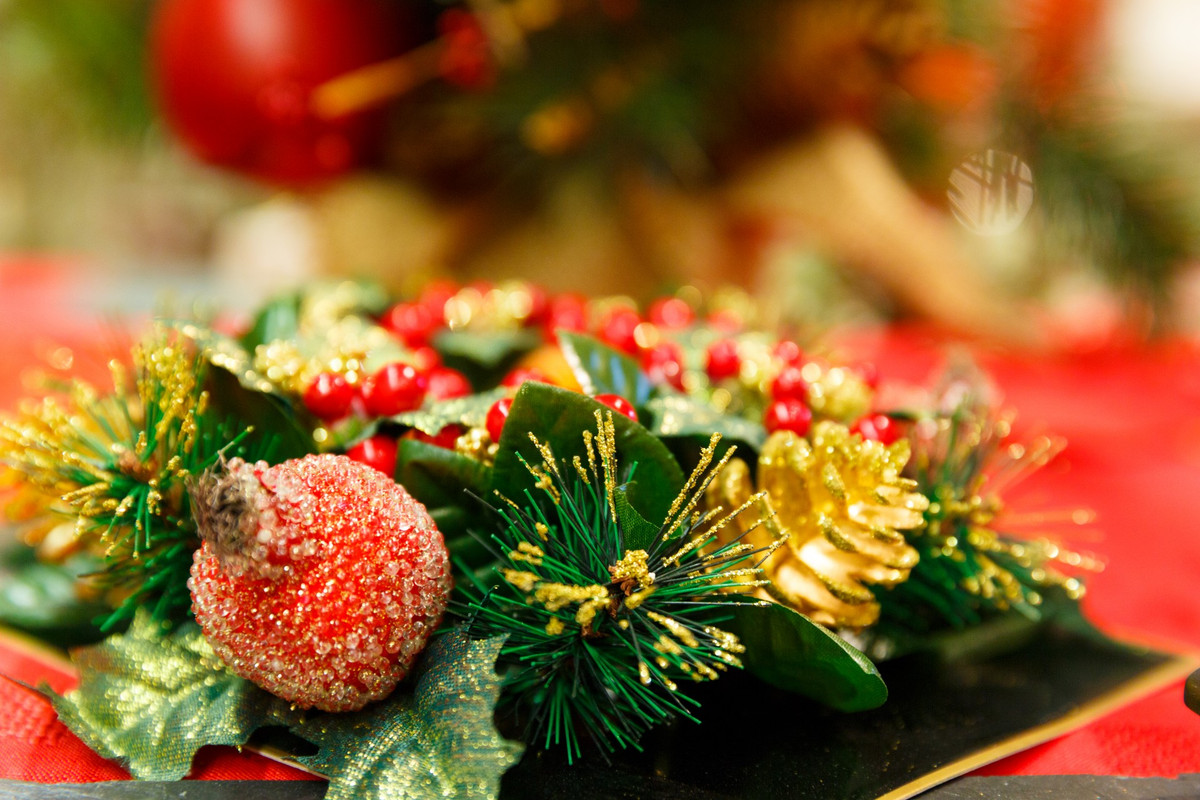 (Image: There are many holiday candle rings you can find online or at craft and home furnishing stores)

While Vase Market doesn't offer real pillar candles or candle rings, they're easy found online or at your local home furnishing retail stores. However, if you're a crafty, DIY kind of individual, you can certainly try making your own using sprigs of real holly, pine cones, glitter, and other accents such as sea shells and acrylic or glass gems. We also have flameless tealight and pillar candles you could use, which are excellent fire-safe alternatives, especially if you have kids or pets around the house during the winter holidays.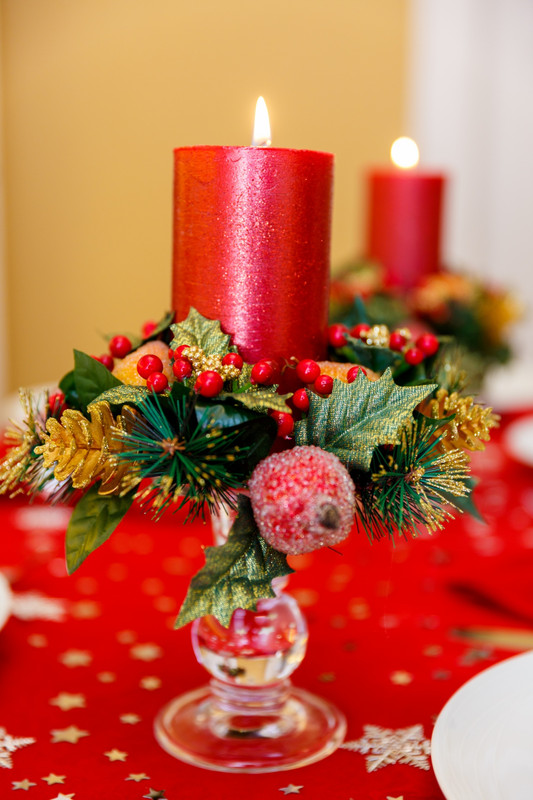 (Image: A clearer image of the bubble glass candlestick from the side.)

Table Scatters and Place Settings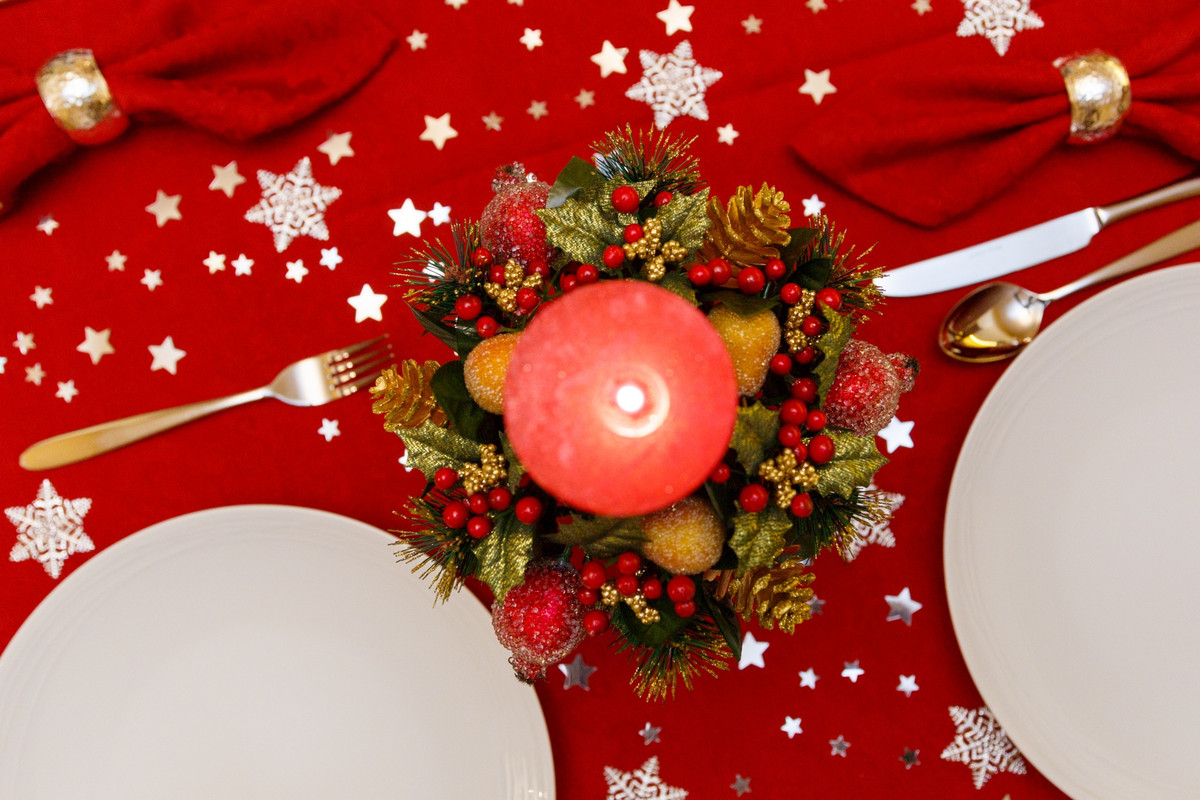 (Image: Scattered on our crimson Christmas tablecloth are silver snowflake and star confetti pieces.)
Because we used a tremendous amount of red for our table, adding more reflective elements can provide sufficient contrast to keep the colors from overwhelming the senses. Naturally, plain white ceramic plates and dishes look great against bold dark colors, but the metallic shine of snowflake and star confetti blends in with the silverware cutlery and crystal glass drinkware.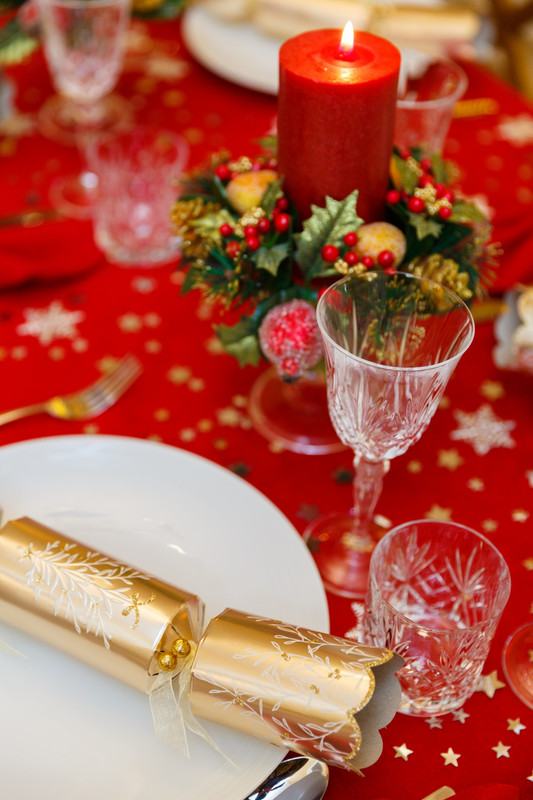 (Image: A gold Christmas cracker bon-bon makes for a delicate finishing touch)
Following in line with our metallic color contrast scheme, we brought these beautiful gold Christmas crackers, also known as bon-bons. Christmas crackers are traditional party favors in the United Kingdom and they are typically pulled open at a Christmas dinner table. Each cracker contains a prize, such as a small toy, a joke, or a party hat. They make a fun, but potentially loud popping sound when pulled apart, so be sure to warn your guests who are unfamiliar with this tradition.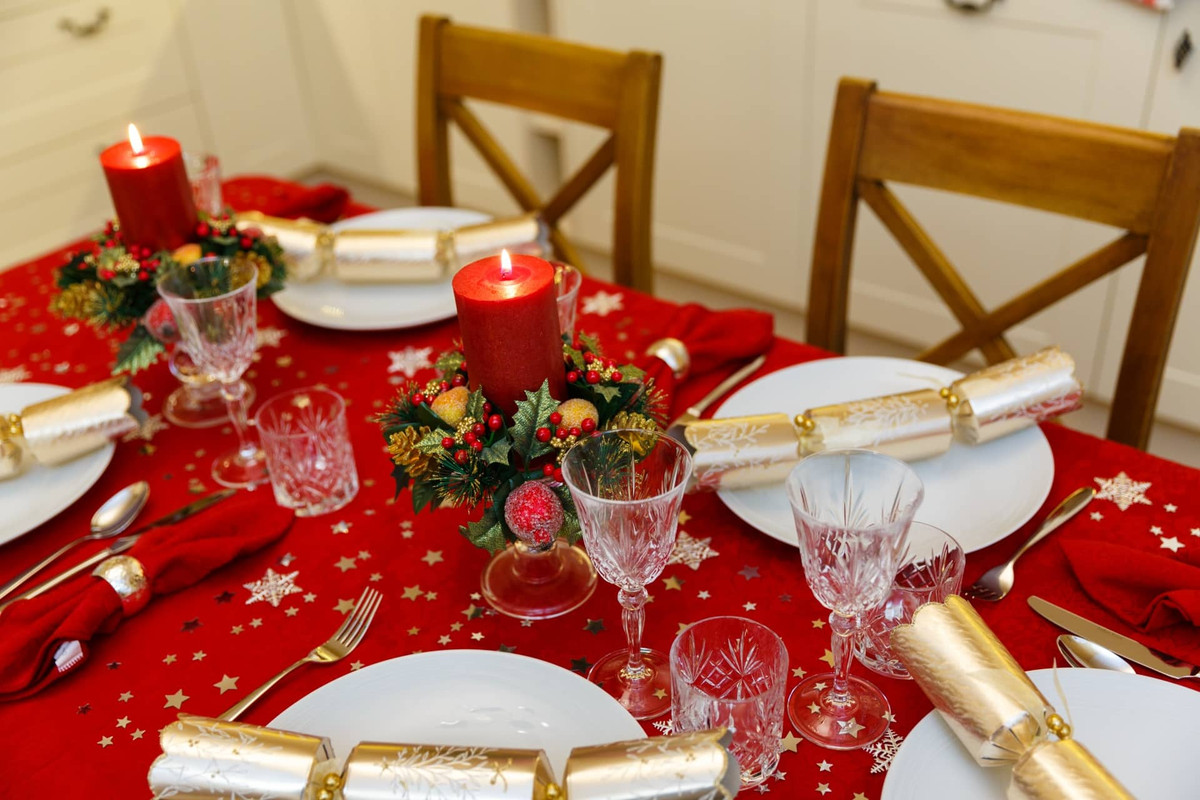 (Image: A perfectly Instagrammable Christmas dinner party table!)
And with that, we have a marvelous Christmas / holiday dinner table; one that invites the eye and brings wonder and joy to all who sit down for the celebrations.


---
We hope you enjoyed out latest blog post!
If you were inspired by today's post, and you wanna see more, you can sign up for our Vase Market Newsletter. Also be sure to check us out on Yelp, Facebook, Wedding Wire, Gay Weddings, Pinterest, and Instagram for more info! You might even stumble upon special offers and coupon codes!