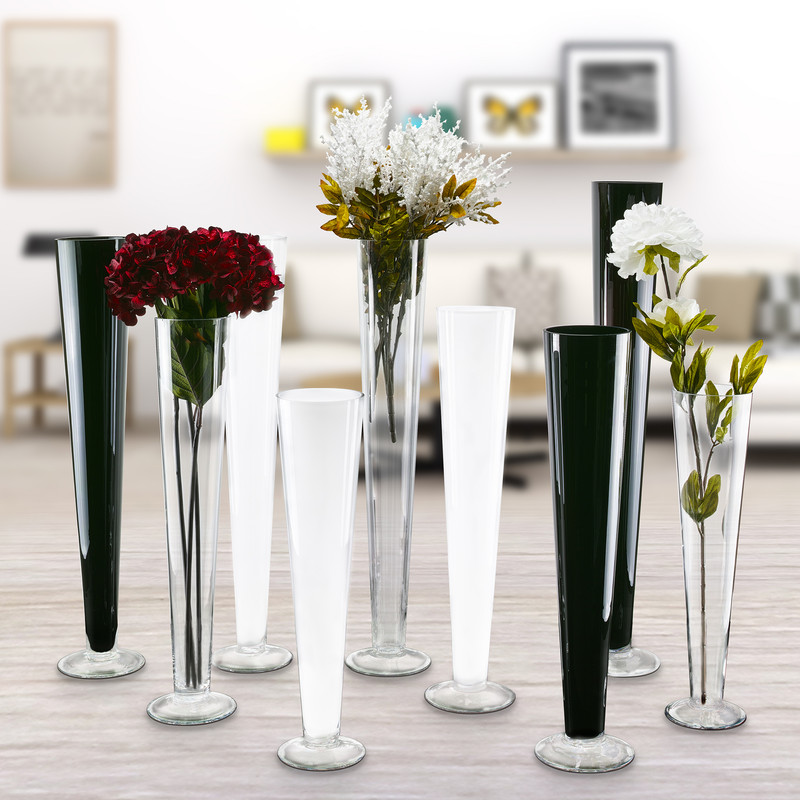 (When your family comes together for a fantastic holiday gathering and takes a family photo)
This amazing selection of glass trumpet vases comes in three different colors and sizes. Read on to find out why these vases are among the most popular choices for centerpiece arrangements as celebration vases for weddings, anniversaries, quinceaneras, birthdays, parties, and corporate events!
Our collection of hand-crafted trumpet vases is, of glass vases for floral centerpiece designs, the most commonly selected choice. Their popularity is due to the exquisite shape and resplendent silhouette that forms when combined with an array of vibrant floral décor. We make these dazzling tall vases very affordable for weddings and events on a budget.
The celebration vases come in a different trumpet designs, colors, and heights and every shape is suitable for a wide range of decorative styles. These trumpet vases will work for nearly every sort of event.

Vase Market's most straightforward modern style is our taper down trumpet vase. Forming an austere vertical tower that tapers down to a wide clear glass foot, these trumpet vases can sustain top-heavy flower arrangements, and they come in designs of bold black, snow white, and crystal clear.
---
We hope you enjoyed out latest blog post!
If you are inspired by today's post, and you wanna see more, you can sign up for our Vase Market Newsletter. Also be sure to check us out on Yelp, Facebook, Wedding Wire, Gay Weddings, Pinterest, tumblr, and Instagram for more info! You might even stumble upon special offers and coupon codes!