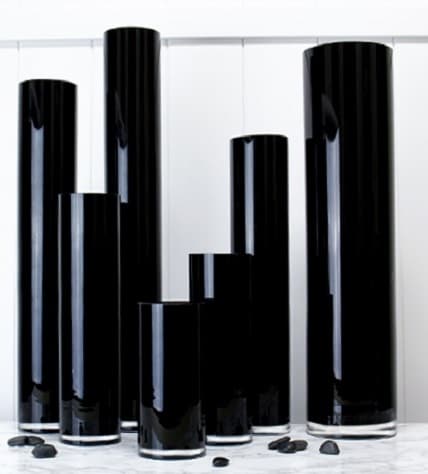 Since the beginning of our technological and cultural development, glass has been an essential tool for humanity. Long ago, our ancestors discovered a hard black glass known as obsidian, which is a material that naturally forms in the intense heat of volcanoes. The glass was excellent for making tools like spear heads and knives. Fast-foward to the present day and we would find that humanity has mastered the power to make glass for every aspect of life. 
What makes black glass vases of Vase Market particularly unique is the way the materials and the designs demonstrate the fusion of honoring our origins in glass and honoring modernity. We draw inspiration from our history with obsidian glass, but also with contemporary fashions in interior decorating. In combining the old and new, we hope we can inspire others to recognize the elegance of black glass vases.
Here at Vase Market, glass is the name of the game. While some of our products are made of acrylic, zinc, or copper, nearly all of our vases are made of hand-blown glass. Becuase it's such a common material in daily life, we don't often think about what glass is, or how it is made. Our black vases are produced by first forming a glob of molten black glass as the inner core. The glass is then dipped into a coat of molten, clear glass on the exterior. Once the glass is blown to the designed form, it undergoes a flashing process to ensure proper fusion. As a result, the colored vase has scratch resistant surfaces and yields a high quality finish.
Colored vases are popular because they allow for a striking contrast to other decorative elements. For example, floral designs with light-colored petals can be enhanced when arranged in a black vase. Similarly, a light colored background, such as brightly lit halls or white table cloths, will make the color of the vase more pronounced. 
Here are some examples:
If you are set in getting a black vase, there are several different designs you can choose from. Cylinder vases (as mentioned in previous posts) and cube vases are classic choices that accentuate chic modern style. They come in various sizes that can make them suitable for events small and humble or expansive and grand. We also have the classic trumpet vase designs which exhibit a simple, but strong silhouette. However, among our most popular designs is the Eiffel Tower vase. At the time of its construction, the Eiffel Tower of Paris, was lauded for its innovative architectural design; one that imitates the stability of a femur bone. Naturally, our Eiffel Tower inspired vases similarly reflect a slender, bone-like structure. You can also check our a few of our other unique flare vase designs!
Happy decorating!
---
We hope you enjoyed our newest post!
If you like what you see, and you wanna see more, you can sign up for our Vase Market Newsletter. Also be sure to check us out on Yelp, Facebook, Wedding Wire, Gay Weddings, Pinterest, and Instagram for more info! You might even stumble upon special offers and coupon codes!