Rustic Garden Wooden Square Vases and Rectangular Planters
The rustic style outdoor wooden planter box set is now available in the shop.
To read more about wooden box garden planters, rectagular or square, you can also check out the following:
Decorating Tips for Wooden Box Vases and Metal Planters
A House For Your Garden: Wooden Box Vases and Garden Planters
A House For Your Garden Part 2: Zinc Rectangular Planters
---
The conventions of rustic style decor and architecture relies on an amalgamation of natural raw materials, natural setting, and nature-inspired elements, and the most important quality of Vase Market's wood planter boxes and wooden square vases is the raw, natural wood, first and foremost. When you observe beautiful vintage rustic style homes and venues, you'll find not only an abundance rough and unfinished wood textures, but warmth generated through organic colors and earthy, modest textures. Our garden wood planter box collection exemplifies the free-spirited and humble components that represent the fundamentals of the rustic decorative style.
Whether it's outdoors or indoors, square planters and rectangular planters help to maintain a contemporary feel to the rustic space. The unfinished wood texture of these wood planter boxes compliment wood planks and wood flooring. The honest and homey shapes and unpolished materials merge into something that works great for framing or centering dark wood tables and counters, stone fireplaces, or rugged cabin-style rugs.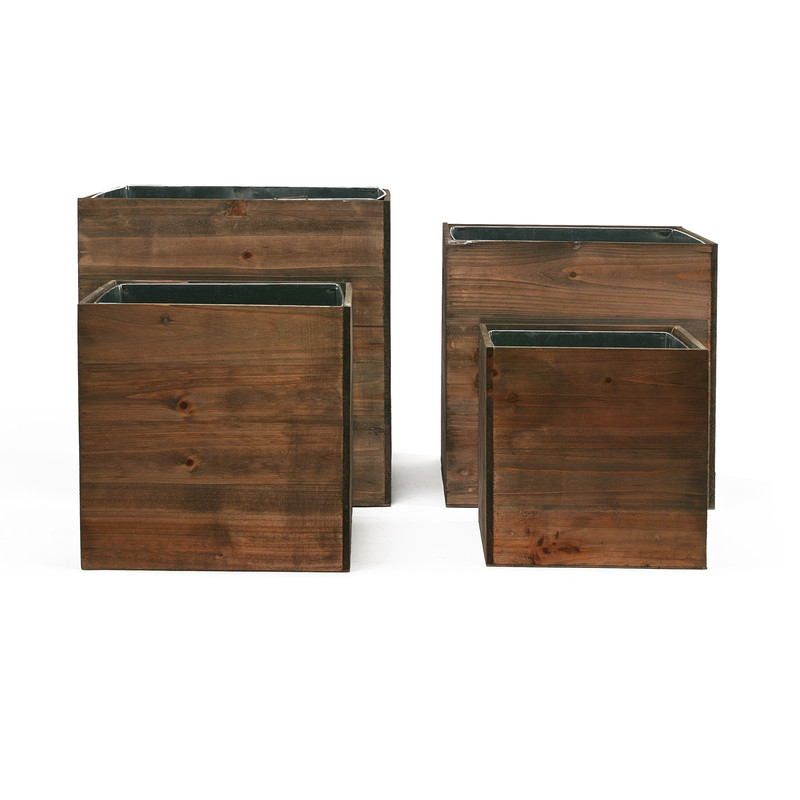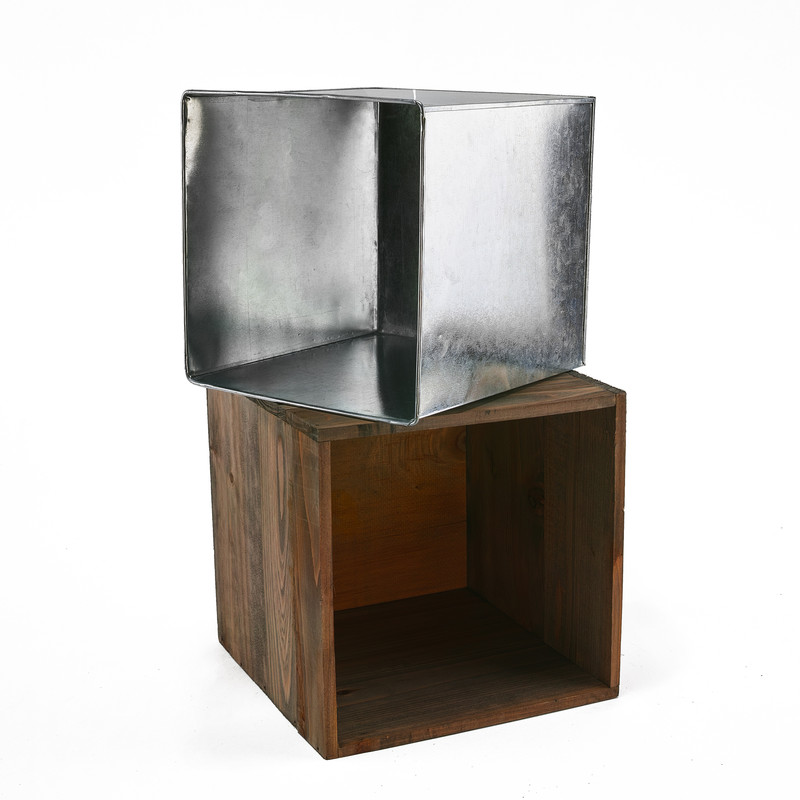 The creative decoration of these wooden planters and wooden box vases can be incredibly intuitive. The removable metal zinc liner is incredibly easy to use. For floral decorators, the square openings look best when completely filled up with tightly packed arrangements. For the best kind of look, a round and symmetrical arrangment is most suitable; especially if it overflows a little ove the rim to obscure the zinc liners like a muffin top. For long-term gardens, users can also easily plant and grow kitchen herbs or water-efficient plants such as cacti or succulents in these wood planter boxes, which often create beautiful color contrasts against the subtle warmth of unfinished cedar.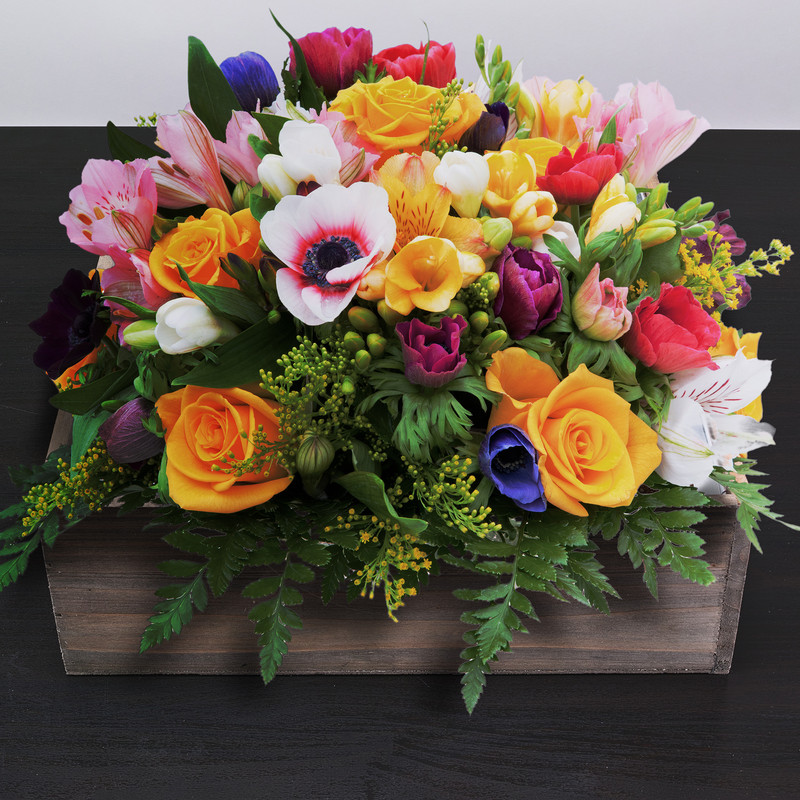 The removable metal box liner helps to protect the wood, but it also makes creative customization of the outer wood box easy. Creative types looking to paint the wood square box planters or polish them can do so easily. If you're looking to paint patterns on the wood box planters, plain acrylic paint is perfectly appropriate. There's no need to sand down the wood for it, but adding a layer of solid paint first may make a nice muted background color for pictures and designs. Some creative home-makers and home-improvement artists might also attach metal handle drawer pulls or wrap the wood planter in decorative sheet metal. You can also attach small chalk board to the side for labeling or drawing. It becomes a cute addition to any room or setting and gives room for customizing even further in any context.
Inspired Southern Barn Rustic Wedding Decor
Thanks to the proportional sizing of each cube wood box planter, creating staggering decorative arrangement with several boxes can looks particularly charming for wedding table-top decor and centerpieces, floral or otherwise. Filling each planter box with roses, dahlias, zinnias, berries, or fruit can make an adorable colorful rustic wood box centerpiece with an inviting, organic lush display.
There are also ways of creating non-floral wedding centerpieces that still fit the rustic style these wood box planters encourage. For example. imagine using these wood box planters to hold small garden tools. They can also fit in with vintage aethetic table displays featuring old items, candle lanterns, worn out books, scrolls, old cameras, slices of wood, dry moss, watering cans, wine corks, or tealights. Imagine tying twine or frayed string around the box with little wooden plaques indicating table numbers. You could also place long or tall slender bottles into each square planter box and then fit tapered candles into the mouth of each bottle.
>>>New Sets Available in Store
---
We hope you enjoyed out latest blog post!
If you are inspired by today's post, and you wanna see more, you can sign up for our Vase Market Newsletter. Also be sure to check us out on Yelp, Facebook, tumblr, Wedding Wire, Gay Weddings, Pinterest, and Instagram for more info! You might even stumble upon special offers and coupon codes!