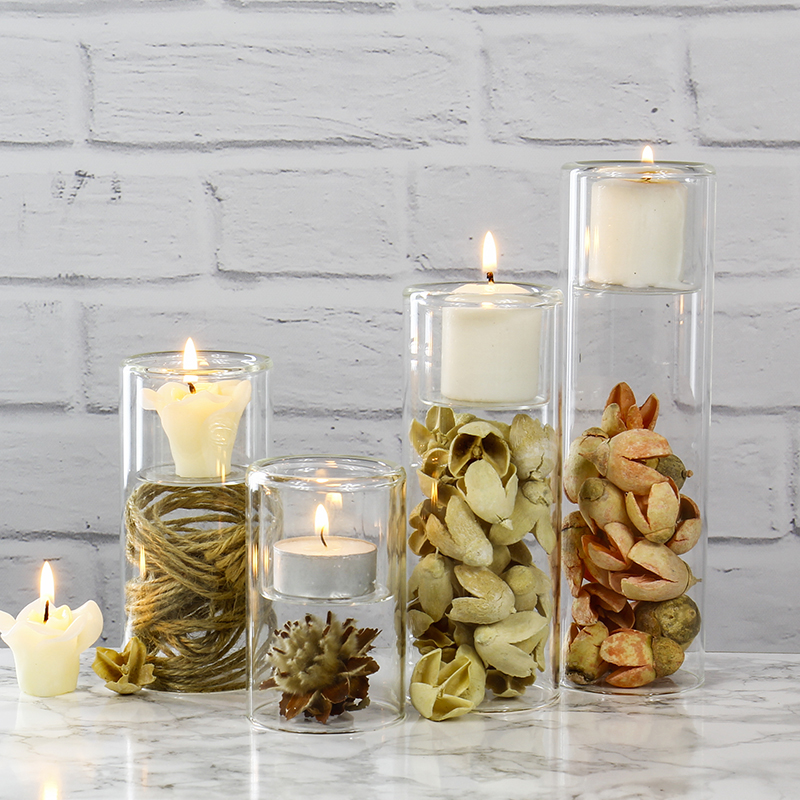 When it comes to creating that perfect glow for your tabletops, there is little that can beat these glass cylinder tealight votive candle holders. This collection represents a fantastic fusion of the major elements in the classic designs we've previously discussed: stem glass candle holders, glass cylinder vases, and votive candle holders.
Like with any glass candle holders, these glass cylinder tealight votive holders are more than capable of bringing a perfect romantic candlelight ambiance. Clustered together, these varying heights (of 3.75 inches, 5 inches, 6.25 inches, and 8 inches), have an attractive stateliness to them that sends a message of refinement and elegance. When flipped over or "reversed", these ethereal glass tealight votive holders become delicate bud vases, small hurricane glass vases, or hurricane candle holders.
Making Glass Vase Candle Holder Centerpieces
A few, simple, easy-to-acquire elements can transform a small cluster of votive tealight holders into a dazzling centerpiece. Utilizing additional accessories such as our wholesale glass pillar candle plates and wholesale mirror glass candle plates. These cylinder glass tealight votive candle holders are sold in bulk at an affodable wholesale price, which makes them an easy choice for your wedding. Plain old hurricane glass candle holders and open end cylinders are one thing, but these little glass cylinders are sure to bring a new and classy intrigue to any decorative endeavor. 
Find vase fillers that suit your style and fill the hollow beneath the cavity in the tealight holder. For an autumnal feel, some people choose dried leaves, nuts, dried flowers, rattan balls, rope, or twine. For a more festive aesthetic, try going for brighter colors. Our transparent acrylic vase fillers, glass pebbles, river rocks, and sea shells can all make really fun and interesting displays.
At the top, you can either fill the hollow with a small pillar candle (we recommend 1 to 2 inches in height), a standard tealight, LED party tealights, a floating tealight or floating candle, or your own hand-made DIY candles!
Hurricane Glass Candle Holder Becomes Glass Cylinder Vase!
It's like a magic trick! Transforming glass tealight votive candle holders into a cylinder glass vase is not only simple. You can easily create visually interesting centerpieces by combining these wholesale glass candle holders with 3 things: transparent vase fillers (clear acrylic or glass gems or exapndable jelly decor pearl vase fillers), LED party lights (we recommend a tealight no taller than one inches in height), and flower bouquets.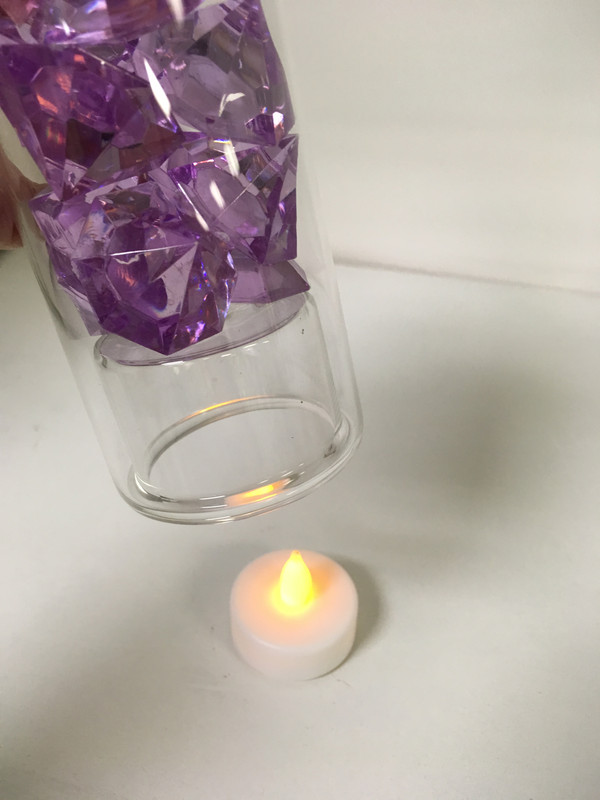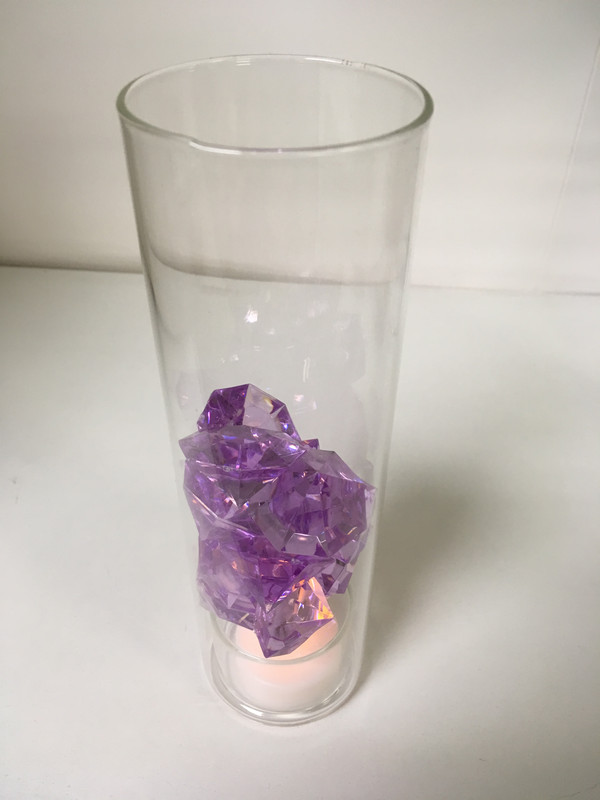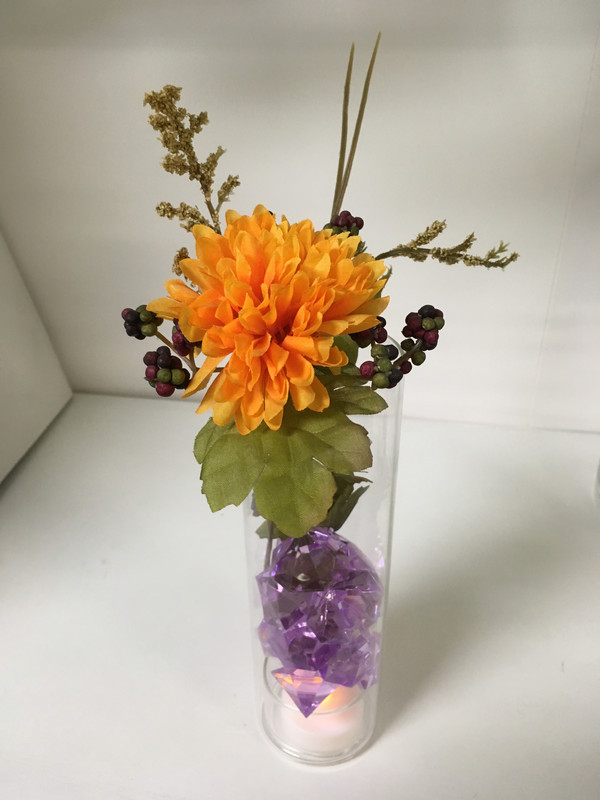 Simply place the LED party light underneath the glass tealight votive candle holders, into the hollow where the candle would usually go. Then fill the other end with your vase filler of choice followed by a few stems of flowers (see step by step images above). I would also recommend placing a mirror base or glass candle plate underneath the candle.
As an alternative, instead of flowers, you can also fill the glass cylinder vase with the water and pearl vase fillers, and top it off with a floating candle.
You can also try lining the glass cylinder vase with thin paper or lace to hide the light altogether before topping it with flowers. See the laced hurricane open end candle shade section of this blog for reference.
---
We hope you enjoyed our newest post!
If you like what you see, and you wanna see more, you can sign up for our Vase Market Newsletter. Also be sure to check us out on Yelp, Facebook, Wedding Wire, Gay Weddings, Pinterest, and Instagram for more info! You might even stumble upon special offers and coupon codes!
---
Vase Market is the place for all your glass vases in bulk, wholesale glass candle holders, centerpieces, and party supplies! Vase Market is a direct importer of wholesale glassware and decorative pieces for weddings and events. We offer hand-crafted, high-end quality products for birthdays, bar-mitzvahs, weddings, and corporate parties throughout North America. Whether you're planning a splendid event, a close-knit gathering, or simply want to decorate your home, we are confident that our items will fit your individual style while helping you stay within your budget.