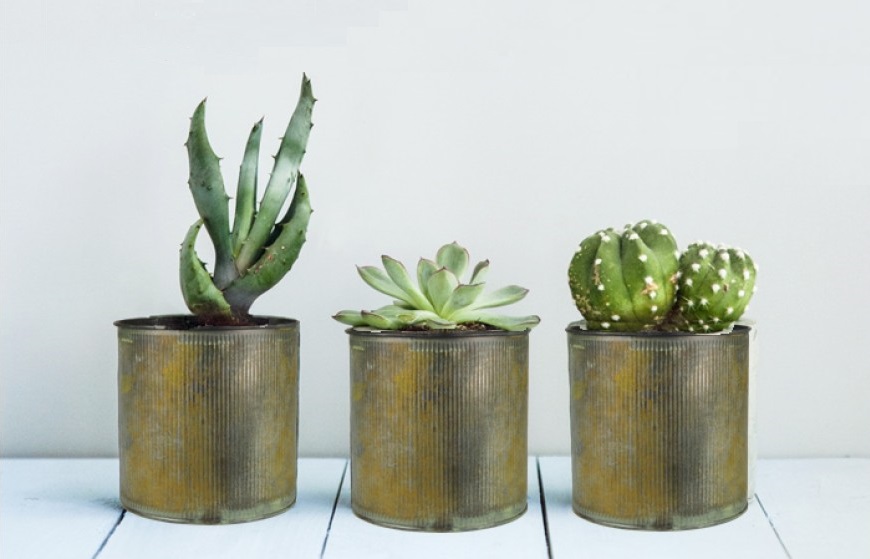 Looking for inspiration on garden pots, zinc vases, and wood planters? We've got a few ideas for how to make use of these fantastic garden accents so that your home, gardens, and events can display the perfect rustic barnhouse charm that would make any country-side farmer proud.
To read more about rustic wooden box garden planters you can also check out the following:
Decorating Tips for Wooden Box Vases and Metal Planters
A House For Your Garden: Wooden Box Vases and Garden Planters
A House For Your Garden Part 2: Zinc Rectangular Planters
The Miracle of The Wood Planter Box
 
1. Styling a Post-Apocalyptic Setting with Corrugated Zinc Pots
In a previous post, we talked about why zinc vases can be beneficial for gardening. Apart from the purely functional benefits (such as light-weight, corrosion-resistance, anti-microbial properties, and free of lead and abestos), zinc planter vases have a corrugated ridged texture, with a lovely patina oxidized coloration, that is actually quite popular for rustic industrial aesthetics. Corrugated patina zinc pots have a worn, water-damaged appearance (which is purely for aesthetic purposes, and not actual damage). Such a flotsam look brings out a kind of gritty, salvage-yard effect, which contrasts beautifully with vibrant greens, like overgrown plants in a post-apocalypse.
In the example below, a set of cylinder corrugated zinc pots are each planted with a jungle-like collection of succulents. Cacti and succulents are perfect for these patina zinc pots because of their size. Our zinc pots and planters do not come with drainage holes, but because these types of plants are water-efficient, there is no need to fear watering them on occasion. These patina zinc pots can make sweet little accents for indoor settings in homes and offices, but would also fit in nicely on outdoor garden racks and shelves. Presented against a backdrop of unfinished wood boards or panels and our neutral-colored zinc pots would really bring out that industrial chic feel.
2. Arranging Floral Centerpieces with Small Cylinder Zinc Vases
For a cup no bigger than a slightly large mug, it might surprise you how much a single zinc pot that's 3 to 4 inches wide can hold. The example below demonstrates this well. These patina zinc cups may be unattractive by itself, but once filled with a vibrant spring-colored arrangement of peonies, tulips, and ferns, you've got a gorgeous floral centerpieces befitting an subtly extravagent wedding or event; an event that demonstrates an appreciation for the everyday beauty of rough and old-looking materials.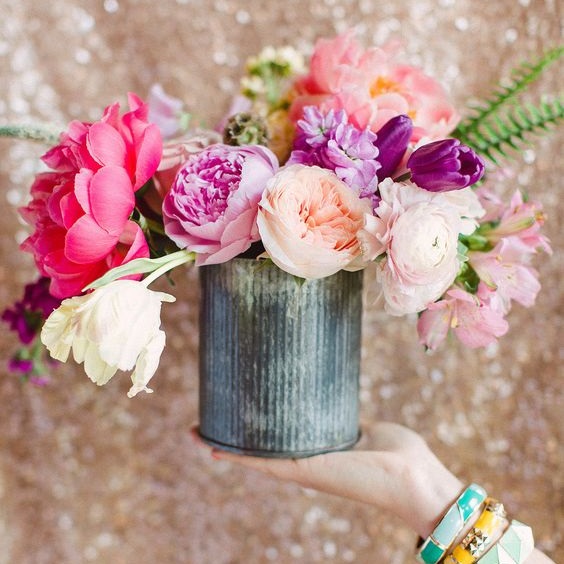 3. Creating Centerpieces in Garden Wood Box Planters
Believe it or not, there are things you can buy, online or in craft supply stores, that make floral arranging really easy. I mean really easy. It might seem like a no-brainer to an experienced florist, but for the average bride-to-be working within a tight budget, the existence of floral foam is not necessarily common knowledge.
Floral foam bricks are made of styrofoam that's easy to cut into and poke holes in without crumbling or cracking. They can be shaped easily to fit into your choice of container, although they are best suited for square and rectangle planters. It's also cleaner and neater to use floral foam over real dirt, which is convenient for indoor settings, especially in places with dining tables. The plant stems would hold in place more securely with a lower risk of scattering if the wood box planter or vase is toppled. Floral foam works with artifical plants as well as real flowers. Good quality foam is capable of holding water, keeping real flowers and plants fresh inside the wood planter.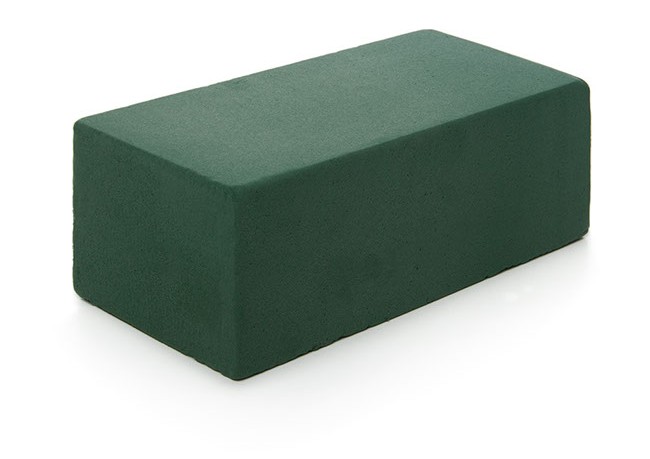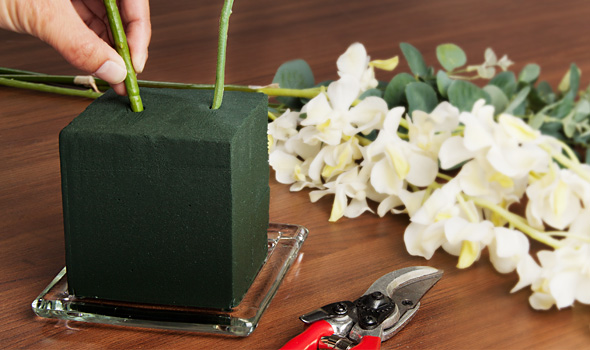 (You can read more about the benefits of floral foam here.)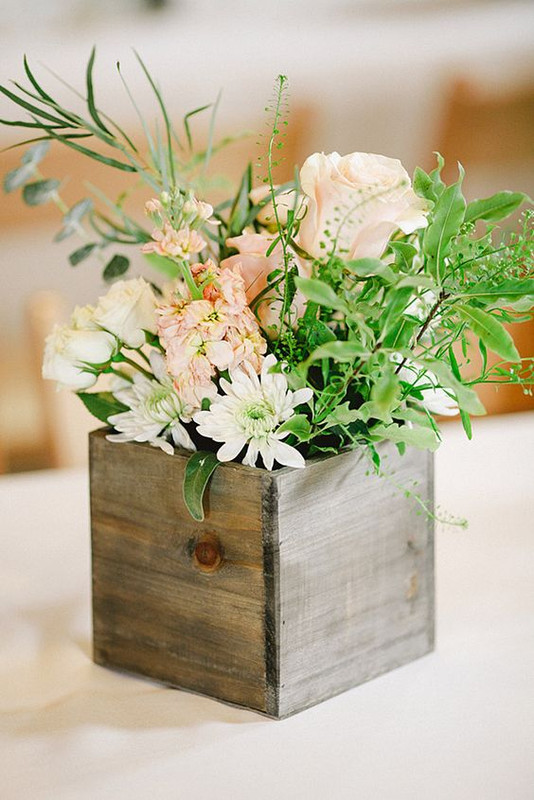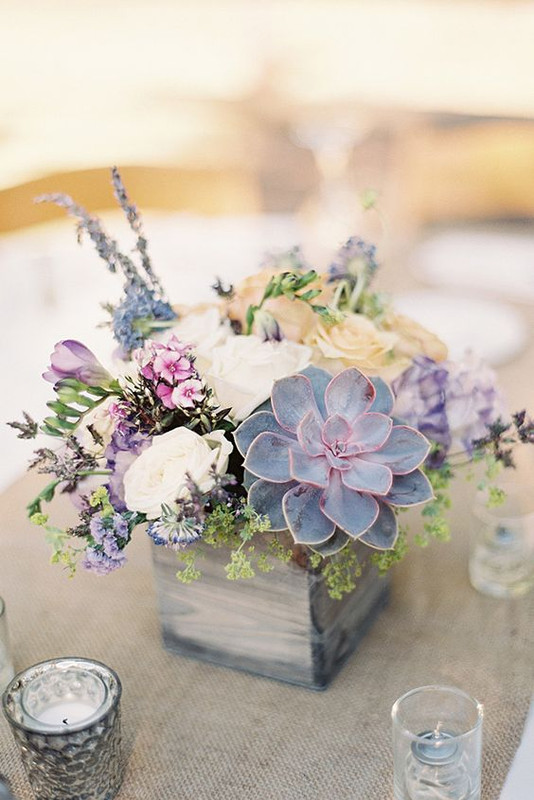 (Great examples of rustic floral centerpieces presented by Wedding Forward)
4. Stamped Text on Rectangle Wood Box Planters
Nothing is more congruous to rustic settings than unpolished wood. In addition to using floral foam for your large and dense floral arrangements, our wood box planters are incredibly easy to customize thanks to the unfinshed textures. Our unfnished wood box planters can be painted, polished, or stamped. To supplement a pastoral event design, you can try printing stencils for spray painting designs or text on the boxes. In the example below, the text "Coastal Herbs" is printed on the box. The text gives the wood planter a found-object artistry. There are many free "farmhouse" rustic style inspired fonts you could use for your texts, including Blackoak Std, Bernard MT Condensed, Goudy Old Style, or Goudy Stout. For more free fonts you could use, Mountain Modern Life offers some you can download.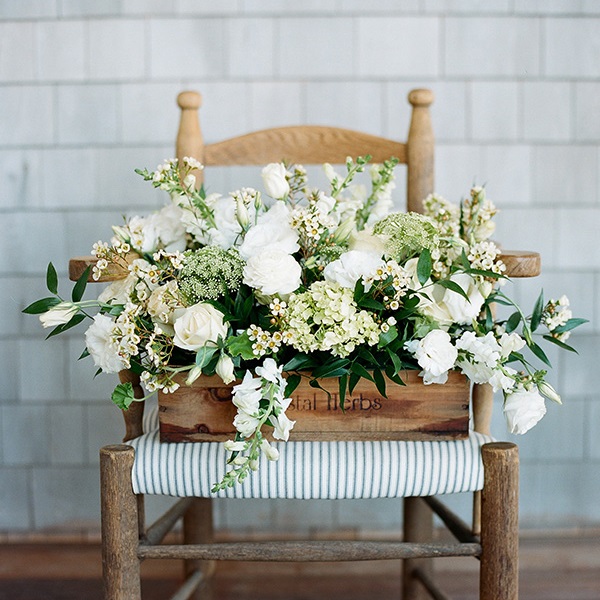 5. Customizing Birch Wrapped Zinc Vases
Everyone loves the rough tree-bark texture of our birch-wrapped zinc pots and vases. Each piece looks and feels like a piece of nature, and when stuffed with a dense bouquet of wild flowers, grasses, and flowers with smaller buds, even a single birch wrapped zinc vase will feel like an entire garden to your guests. Bright colors are a must for these planters. 
Because the birch bark texture presents a beautiful natural pattern all on its own, it's not necessary to add much more to these vases. Apart from thin strips of burlap, lace, or string, these birch wrapped zinc pots will look just lovely by themselves with colorful spring floral within. However, it is common for users draw monograms or couples' initials in hearts on these vases. Often, users will scratch, emboss, or even scorch the surface of the bark with wood burners or custom-made branding irons.
---
We hope you enjoyed out latest blog post!
If you are inspired by today's post, and you wanna see more, you can sign up for our Vase Market Newsletter. Also be sure to check us out on Yelp, Facebook, tumblr, Wedding Wire, Gay Weddings, Pinterest, and Instagram for more info! You might even stumble upon special offers and coupon codes!